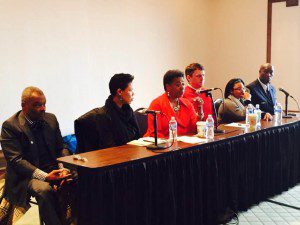 As a part of the Belmont's Black Student Association's (BSA) celebration of "I Dig the Skin I'm In," six panelists came together March 18 to talk to students about the importance of getting involved in the university, the community and politics.
As shown in the picture (left), panelists included Attorney Walter Searcy, Council Member Erica Gilmore, Rep. Brenda Gilmore, former political lobbyist, Belmont alumnus and Professor George Scoville, Juvenile Probation Officer Jamita Bobo and North Precinct Commander Terrence Graves.
The panelists took turns responding to the following questions with advice and their individual experiences:
1. Several college students feel the pressure of having to know exactly what they want to do as soon as they graduate. Was that the case for you? If not, what tools did you use to help determine what you're passionate about?
2. What are some ways for college students to be more active in their rights whether it be politics, community efforts, etc.?
Panelists agreed that students should seek volunteer work, as it is one of the most beneficial ways to spend college years because of the benefits learned and opportunities that present themselves. The group also encouraged students to study abroad and get involved on campus, taking care to not over commit. Finally, the panelists stressed the importance of voting at any and all elections.
Council Member Gilmore said, "The things you are displeased with in your community are tied to voting. Politics is the allocation of resources."
Rep. Gilmore followed by saying, "You just step out of your comfort zone a little. You don't have to join a protest or march the streets, but if you see an injustice, you can participate in your own small way."
The event concluded with student questions and the idea that every person, no matter how small, can make a difference in his or her community.