The Office of Communications (OC) traveled with Belmont's Women's Basketball team to Athens, Georgia for the first round of the NCAA Tournament where the Bruins took on the Duke University Blue Devils on Saturday, March 17.  Seeking to learn more about the team, Head Coach Bart Brooks and the overall program, the OC members spent nearly 60 hours at the big dance.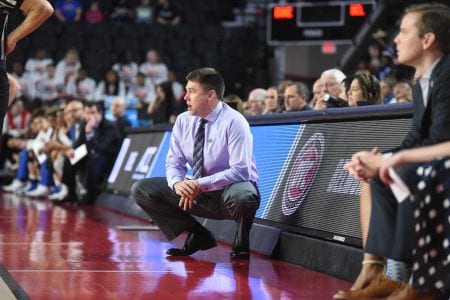 He's calm, cool and collected – a dad of sorts. He's a "big picture guy," at least according to a handful of folks closely involved with Belmont's women's basketball team. Coach Bart Brooks has only been a Bruin for less than a year, but according to his team and staffers, he's a natural fit.
He's a family man – that can be seen by the way his sons, 3-year-old Trey and 10-month-old Tyler and his wife Charleen, known to all players as "Char," are three more members of the Belmont team. It's a family affair – open to everyone, even a no-athletic-skill communications professional who's along for the ride.
It's a constant theme…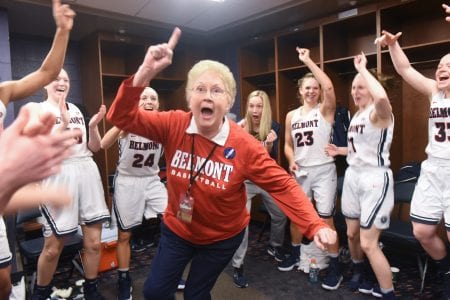 But the spirit of family doesn't end with Coach Bart and his team – it's a consistent theme that weaves its way through the fabric that makes up Bruins women's basketball. In fact, it's noted on Thursday morning, before the trip even begins, while basketball staff and players are loading up the Belmont Bruins branded GrayLine bus. Belmont basketball program founder, matriarch and first Women's Basketball Head Coach Betty Wiseman, known lovingly by the team and Athletics staff as B-Dub, commented on the team's family mentality as Coach Bart, Char and his kids arrived at Belmont's loading dock. "Of course they're all going with us," she said. "We're a family."
It's apparent when the bus pulls up to Bill and Stephanie Holby's house for dinner along the route. As Assistant Coach Jamey Givens's in-laws, and avid Belmont supporters, the Holbys are a natural part of the team's family, and their hospitality is evident.
Stephanie stands in her light-filled sunroom, greeting each player with a hug and the happiest of smiles. Many faces she recognizes – they've filled her iPad over the last two years while she's cheered Belmont to countless victories from her Buckhead, Georgia home. Before dinner, homemade by the Holbys, Bill gathers the team outside for a blessing. He congratulates the women on their recent OVC Championship victory, overviewing the game's nail-biting end and their ability to close a 6-point gap in only 12 seconds.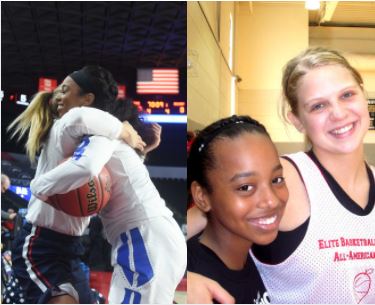 Back on the bus, the family spirit of this team extends beyond those who wear the blue and red. Belmont senior and guard Kylee Smith is especially excited about playing Duke this year – because one of her 'family' members, her childhood best friend Lexie Brown, is the team's point guard and highest scorer. Growing up playing AAU ball together, Kylee and Lexie both transferred to their current schools and are playing as 5th year students, looking to lead their teams to an NCAA victory.
"We've been each other's biggest cheerleaders from afar," Smith says. "She texted me two minutes after we found out we'd be playing each other and said, 'See you in Athens ??❤"
Kylee's willingness to open her 'basketball' family beyond her Bruins teammates extends past her friendly rivalry with Brown. In fact, a quick scan of the stands at any basketball game – home or away – will find father and daughter pair Glenn and Lynlea Payne, two more members of Kylee's, and the Bruins', family. Originally Vanderbilt fans, the Paynes became Bruins themselves when Kylee transferred from Vandy in 2014 and joined Belmont's team. Her first year on campus, Kylee was red-shirted when Belmont played Vanderbilt at Memorial Gym.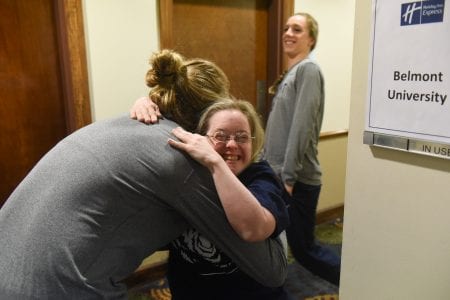 Glenn realized Kylee was now a Bruin, and she invited him to the Curb for a game. The rest is history. Now, Glenn and Lynlea are staples at home games and even travel to away games, including the first round game against Duke. They're members of the Belmont family, and though they joined the ranks because they followed Kylee there, she knows they're fans for the long haul.
"Lynlea will continue to be a Belmont fan [after my graduation]," Kylee says. "She's here to stay."
They can play some basketball, too…
Despite their love for each other and the people around them, there's no denying the natural talent that is evident with this team. After a later breakfast call on Friday morning, the team fills the bus and leaves the hotel for the University of Georgia's Stegeman Coliseum where they'll meet Duke the next day. Before taking the court for pre-game practice, Coach Bart and three Bruins find their seats before a group of journalists for the day's press conference.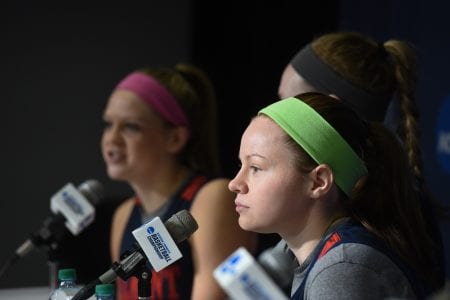 Belmont junior and team guard Darby Maggard, senior and now all-time Bruins record holder for the most blocks during a season Sally McCabe and senior guard Kylee Smith take the stage with Coach Bart for Friday's conference. The trio speaks about their winning season, last year's trip to the NCAA tournament and their strategy for playing Duke. After the women leave, Coach speaks about his gratitude to those Bruins – and the others who make up the team – for the way they immediately accepted him into their family.
"If these guys [didn't] embrace me as their leader when I [hadn't] earned it yet, then I don't think we [would] have had a chance to do what we did this year. They opened up their arms and bought in right away," he says. "I can't tell you how impressed I am of these guys."
It's practice time, now – the women hit the court.
Shooting drills, buzzer beaters, zone offense practice – this family is focused. But a sense of consistent encouragement, pride and a dedication to each other is clear. Shouts of "Good job, blue!" "Nice shot, Ky!" "Yes, Hannah. YES!" "Ellie, Ellie, Ellie!" fill the court.
Practice ends with one final shot, the buzzer sounds and it's back to the bus for one last afternoon and evening before tomorrow's game.
The big day…
Saturday morning's call time is earlier than Friday's, and the effects of the early morning are clear. Breakfast is quieter–there's a sense of focus in the air. In between bites of breakfast casserole and cinnamon rolls, Rich Tiner describes this team's "it" factor as chemistry. Acknowledging that previous women's basketball teams have shared something similar, the 21-year game announcer and professor of media studies at Belmont says there's no denying that something is unique with this group. "Their chemistry is off the charts," he says. "This team's mindset is 'this is what we've worked for since we were little girls.' They're so focused."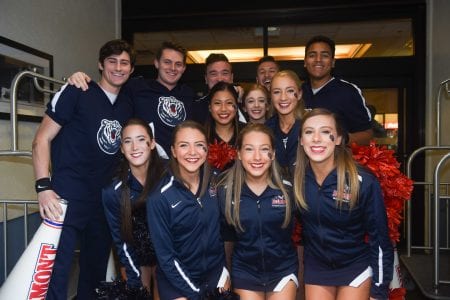 After watching a quick highlight reel, the team is ready to load the bus, and the hotel's lobby is packed with cheerleaders, players' parents, the pep band, students who traveled by bus to watch the game in person, Belmont administrators and more. As the players run through a tunnel of cheers, the fight song echoes in the background. It's game day.
The locker room is buzzing with activity – music plays loudly as the women prepare for the day's challenge. Darby finds her way to the court before her teammates to shoot with Coach Givens. She makes nearly every single shot she takes. The rest of the team rushes the court in their "Splashville" branded shooting shirts, and Belmont fans fill the arena. With minutes left before the game begins, the team heads back to the locker room for one final word from Coach.
His messages are clear – between strategies related to Duke's offense and reminders for successful defense, he is quick to give a nod, many nods, to one of this team's main strengths – their ability to play as a unit, a family. "Play free, play fast and always, play together," he says. Senior Sally McCabe's prayer is one of the last things the Bruins hear before they storm the court for their first round game. "Help us to play together as one unit, with the goal to glorify you," she prays.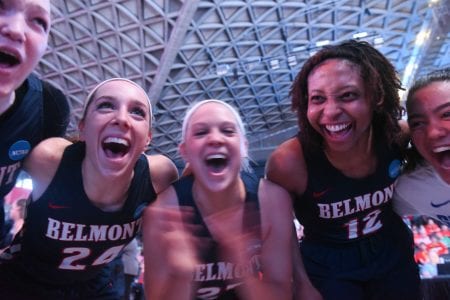 Finding themselves again with a well-deserved place in the March Madness bracket, Belmont's women's basketball team played a hard, well-fought game against Duke University. At halftime, the Bruins take the locker room with Duke up by only 1 point. But Duke's defense presented a significant challenge for the Bruins, and they were unable to pull out a victory with a final score of 58-72.
After the game, the locker room is full of emotions – tears, hugs and heartfelt messages to each other, especially the seniors who played their final game. Belmont junior and guard Jenny Roy is quick to recognize those who have led the team to this year's success. "I just want to say thank you to the seniors," she says. "You guys paved the way, and your legacy will live on forever. Thank you for the best four years of this program."
Soon after, it's time for the post-game press conference. Coach takes the same three players into this session, crediting Duke for a wonderful game, commenting on the difference between the halves and recognizing the team he's so proud to coach. "I can't stop telling everyone how proud I am of our team," he says. "I am just thrilled that I got to go on the head coaching ride with this team. It's been one heck of a season. Our loss today absolutely does not define what this group did this season. These girls have really made this program what it is, and I can't thank them enough."
For both seniors, this is the last press conference they'll attend, and some questions are emotional and hard to answer. "It's been an incredible four years," Sally says. "I know, speaking for Kylee and Sierra, it's just been an honor to wear this jersey and to see the growth in this program and to see the young people coming in after us…that's the best thing that you can have as a senior leaving."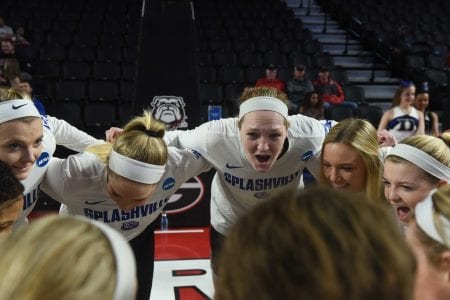 Even despite a tough loss and the emotions that come alongside it, the team's sense of family is present. As the women prepare to leave the crowded locker room, it's time for one last huddle.
"On 3," they say as hands rise to meet each other. "TOGETHER!"