Six students from the Jack C. Massey College of Business won first place in at the 2018 DECA International Career Development Conference (ICDC) last week. Out of 27 Belmont students who competed, 20 were judged as international finalists—the best-ever overall showing by a Belmont team.
The DECA ICDC competition showcases individual and team excellence across a range of business skill areas, including business case studies and prepared events.  Most competing students must survive two distinct rounds of competition to be crowned champions.  Those who survive the large opening rounds advance to "finalists" status and compete against the best-of-the-best in a finals round for an opportunity to achieve additional recognition at the 1st, 2nd, or 3rd place level.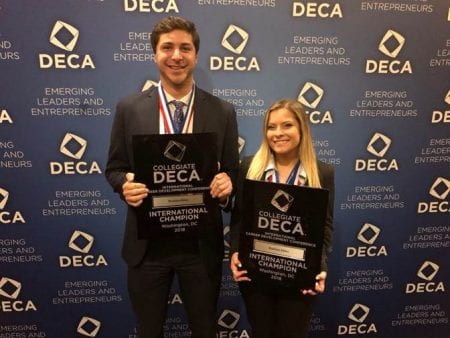 The 2018 winners and finalists from the case study competitions include:
Allyson Misch (Accounting) – first place
Julia Keefe (Business Ethics) – first place
Eric Rall, Jr. (Business Ethics) – first place
Hailee Waters (Hospitality and Tourism Mini Case Study) – first place
Mollie Montgomery and Rebecca Wagner (Sports and Entertainment Marketing) – second place
Cynthia Klauber (Marketing Management) – finalist
The 2018 winners and finalists from the prepared events include:
Katherine Coens and Renee Ramirez (Starting a Business) – first place
Andrew Cranny, Austin McBride and Austin Sellinger (Starting a Business) – finalists
Elias Allen, Joshua Cross and Jamie Isabel (Starting a Business) – finalists
Tanner Landolt (Professional Sales) – finalist
In the Challenges category, Katherine Coens, Jordan Hein and Hailee Walters, along with Kordell Cannon, Abbey Crane and Jessica Hadik were recognized as finalists.
At the team level, DECA recognizes three schools out of all colleges and universities competing within each career area "cluster" for excellence based on overall team success within that category. Belmont was recognized as 1st place overall in the Entrepreneurship Cluster and 3rd place overall in the Business Management and Administration Cluster.
"This provides further evidence that the Massey College of Business is making good on its commitment to deliver an excellent undergraduate business and entrepreneurship learning experience to its students," said Dr. Jeff Cornwall, Massey Distinguished Chair of Entrepreneurship and chapter co-advisor. "Our students continue to demonstrate that they can compete and win at the very highest levels with their peers from anywhere in the world."
DECA's collegiate membership includes over 15,000 students from 275 colleges and universities, with an estimated 1,500 of those students traveling to compete at the annual conference in a variety of business skill events in disciplines such as accounting, entrepreneurship, finance, management and marketing.
In addition to Cornwall, other Belmont chapter co-advisors included Dr. Mark Schenkel, professor of entrepreneurship, Dr. Lora Harding, associate professor of marketing and Dr. Joe Alexander, senior professor of performance excellence. Schenkel, who also serves as 2018 president of the U.S. Association for Business and Entrepreneurship (USASBE), added, "In all of the years I've served as a DECA advisor, the quality of this year's student entries was the best I've ever seen. All participating Belmont students performed exceptionally well this year and should feel particularly good about this year's success, given the high quality of their peers from other programs."
About the Jack C. Massey College of Business
The Jack C. Massey College of Business serves undergraduate, graduate, and executive education students, providing nationally recognized, AACSB International-accredited business education programs.  Experienced faculty, innovative resources, small class sizes and dynamic internship, community service, and study abroad opportunities combine to provide a rewarding learning experience in a student-centered Christian community that prepares students to go "from here to anywhere." For more information, go to:  www.belmont.edu/business