On Saturday, Jan. 14 the Greater Nashville Chinese Association (GNCA) held its annual Chinese New Year Gala at Belmont and hundreds of people from the Nashville Chinese community ushered in longevity, peace and prosperity by celebrating the Year of the Rabbit.
GNCA is a nonprofit with more than 500 active participants representing the Chinese community in Middle Tennessee and has a mission to provide a platform for connecting individuals, families, and businesses for Chinese and non-Chinese communities.
The New Year Gala was held at Belmont for the first time, made possible by director of Asian Studies Dr. Ronnie Littlejohn and foreign language faculty Dr. Joan Li, a GNCA board member.
"The Chinese New Year is a big event," Li said. "With this event, we had a large number of Chinese people from Chinese communities on our campus. It's a showcase of Belmont and it's a way to expose Belmont to the Chinese community. It also resonates with Belmont's mission and goal."
A 3-person delegation from the Chinese Embassy in Washington, D.C. and a 6-person delegation from the Nashville mayor's office were among the guests.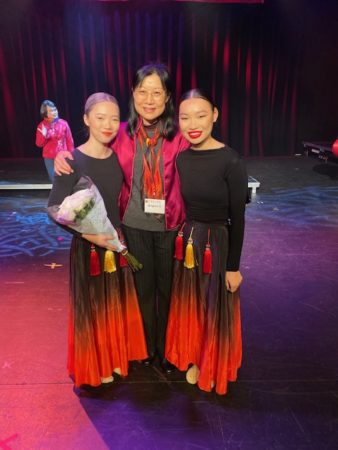 Attendees enjoyed a meal in the Janet Ayers Academic Center and saw dozens of performances in the Massey Performing Arts Center including a modern Chinese dance performed by two Belmont students, graduating senior Rebecca Turner and freshman Abigail Blackburn who are both members of the Belmont Chinese Cultural Association (CCA).
"Chinese New Year is a particularly optimistic time because of the importance that Chinese culture places on happiness, prosperity, and familial relationships," Turner said. "This holiday has encouraged me to emphasize these values in my own life, and in turn, has helped me connect with my culture."
On Friday, Jan. 20 at 5:30 p.m. CCA will host a Chinese New Year Celebration as a WELL-core event in the fourth-floor conference room of the Ayers center. Attendees will hear an introduction about the history and customs of the Chinese New Year, learn a New Year's song and greetings in Chinese and participate in other festivities.
Celebrating cultural events and welcoming diverse groups from the greater Nashville community helps accomplish Belmont's aspirational aim and ensure the flourishing of all people. Chinese New Year is special for many CCA members including Turner, who will graduate in May.
"Having this club at Belmont makes me feel seen as a student here," she said. "I am appreciative to the faculty who are working to grow the Chinese cultural community on campus."