Belmont students can now earn academic credit through short-term and semester-long programs in New York, Los Angeles, Oregon, Washington, D.C.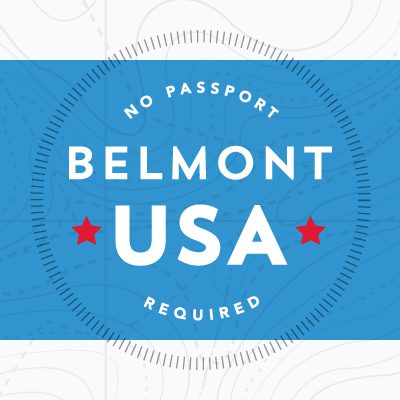 Belmont University recently announced the expansion of its successful Belmont East (New York) and Belmont West (Los Angeles) programs—historically designed primarily for music and entertainment business students—to include new opportunities for students from any major to experience study away without securing a passport. An exclusive Belmont University experience away from Nashville, Belmont USA allows students to continue coursework for their undergraduate degree while gaining hands-on experience through experiential learning and internships. New sites now include Hollywood, Washington, D.C. and Oregon. Additional domestic locations may also be considered as the program moves forward.
Dr. Mimi Barnard, associate provost for interdisciplinary studies and global education, said, "As we challenge students to engage with and transform the world, it's important that we provide them opportunities to experience different cultures and diverse parts of our increasingly global society. Belmont already offers study abroad trips on six of the seven continents, so expanding our reach with Belmont USA allows our students to dive more deeply into a variety of distinctly American experiences, but experiences that are entirely new to them. These new locations for domestic study will provide Belmont students a chance to expand their worldview without leaving the country."
Belmont's first study away/internship program began in 1999 in Los Angeles, allowing music business students to explore another entertainment industry setting outside of Music City. The insights provided helped the program become a consistent offering, Belmont West, which now provides spots for up to 30 students each semester. Belmont East quickly followed in New York City. In both locations, students complete at least one internship along with 12-16 hours of academic courses. Though initially designed for music business majors, these programs now include students of any program of study with recent excursions done by students in public relations, theatre and marketing, among others.
A more recent addition, Belmont in Hollywood, was created after the 2012 launch of Belmont's motion pictures major and provides a summer opportunity for students to experience the film industry first-hand. Belmont also now partners with the Washington Internship Institute to foster academic and internship opportunities in the nation's capital. While also open to any major, this location offers specific focus to anyone interested in politics, domestic and international policy, global studies and law.
The final site in the Belmont USA roll out differs from the others in that it is not located in a major metropolitan area. Rather, Belmont in Oregon reimagines the classroom by putting students in an intentional—and unplugged—community setting in the mountains of the southern Oregon Cascades. Through a partnership with the Oregon Extension, students participate in intensive reading, daily writing, small group discussion and sustainable living. Held each fall, the Oregon Extension is divided into four segments of study: what is nature, what is community, what is a sustainable world and what does it mean to be human.
Applications for Belmont USA Spring 2018 semester programs are due September 15.