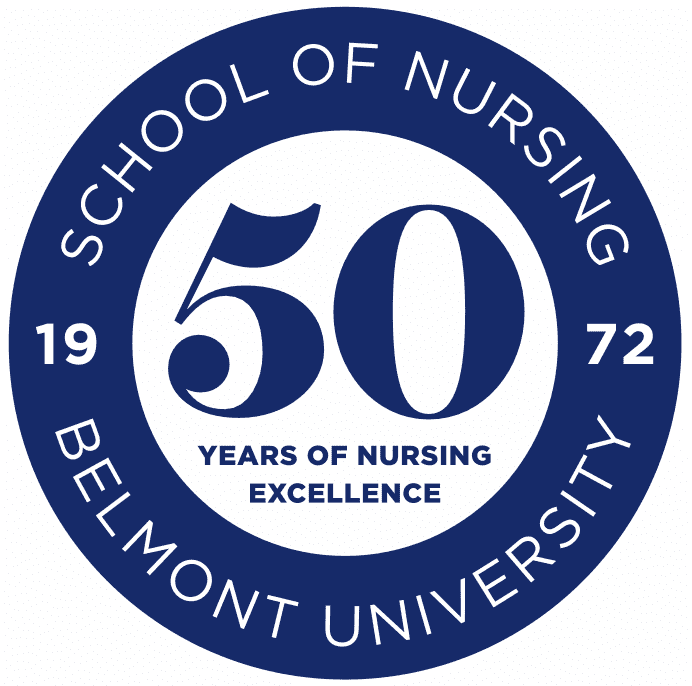 Belmont University's School of Nursing commemorated its 50th anniversary with a dinner and awards program honoring 50 outstanding alumni on Saturday, May 14 at the Fisher Center for the Performing Arts.
"Legacy is said to be a gift from the past that helps create a better future," said Dr. Cathy Taylor, dean of Belmont's Gordon E. Inman College of Health Sciences & Nursing. "For fifty years, Belmont nurses have been recognized for excellence, service and care marked by genuine compassion. This tradition of excellence, grounded in science and shaped by humility and faith, is at the very heart and soul of a Belmont nurse—this strong foundation promises a future where anything is possible."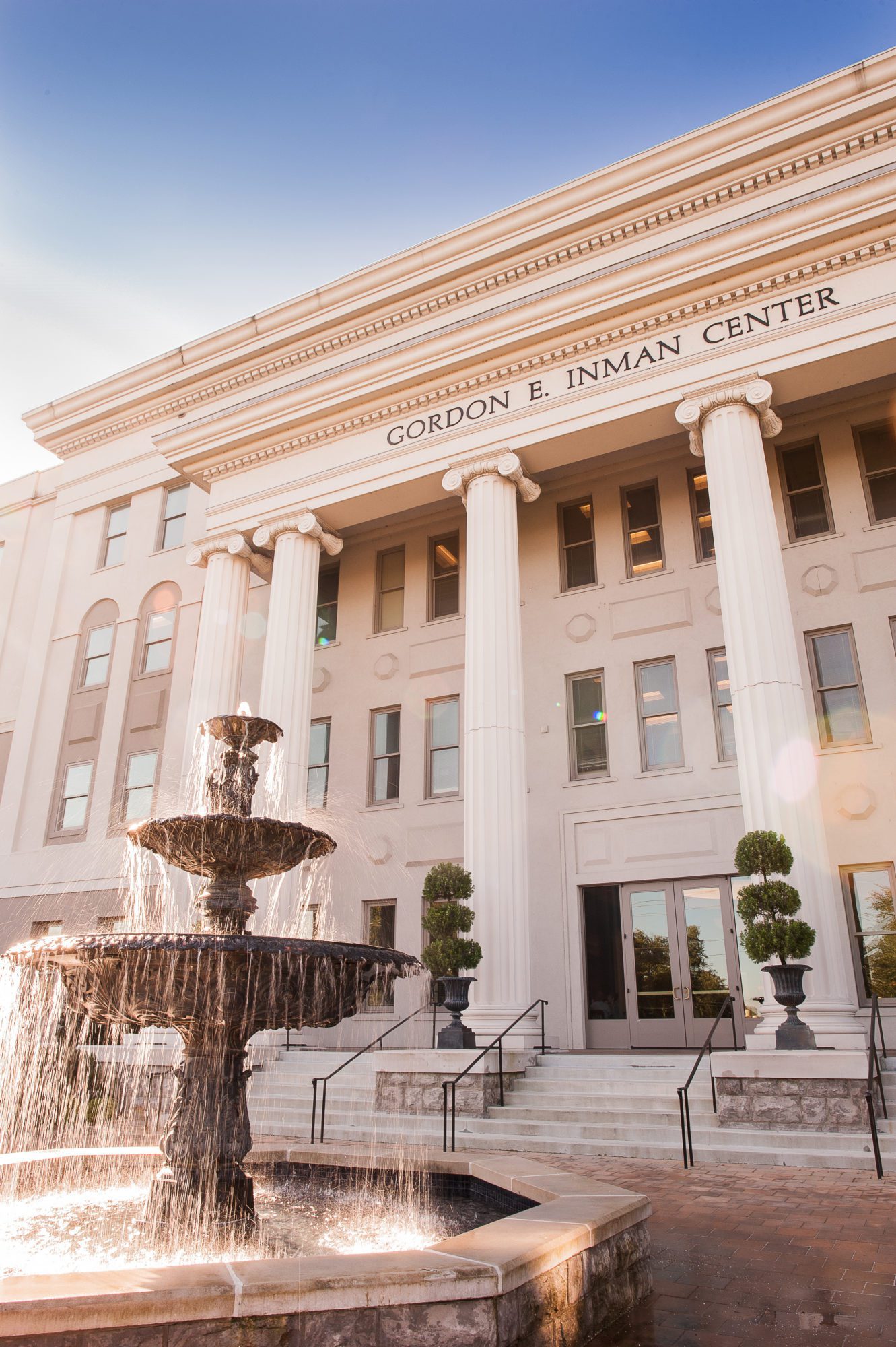 The School of Nursing's inaugural class began in 1972 with 60 students pursuing associate nursing degrees. Today, the program has grown to more than 800 students on bachelor's, master's and doctoral tracks, and is the University's second-largest undergraduate major. From humble beginnings in a shared church space, the School of Nursing moved to Belmont's Gordon E. Inman Health Sciences Building in 2006, which houses Tennessee's first fully accredited simulation center and more than a dozen labs.
Since its inception, the School has produced nearly 4,000 alumni who continue to champion better health and well-being for the myriad communities in which they serve. Program graduates have gone on to work in countless health care settings – from hospitals to community-based clinics, nonprofit organizations to long-term care facilities.
The School of Nursing has celebrated many milestones throughout its 50 years:
1972: Inaugural nursing class begins with 60 students
1985: School of Nursing transitions from offering an Associates Degree in Nursing to a Bachelor of Science in Nursing (BSN) and registered nurse (RN) track
1994: Master of Science in Nursing (MSN) program begins
1999: College of Health Sciences and Nursing established
2006: School of Nursing moves to Gordon E. Inman building
2013: Doctorate in Nursing Practice (DNP) program begins
Today, the School of Nursing boasts a 97% first destination rate with new graduates working or continuing their education within six months of graduating, and more than a decade of 100 percent first-time national FNP certification exam pass rate.
---
50 Outstanding School of Nursing Graduates recognized at the event include:
Audrey Arroyo, MSN, PMHN, CPT, US Army Nurse Corps, Colorado Springs, CO
Beth Bass, MSN, APRN, FNP-BC, Monroe Carell Junior Children's Hospital at Vanderbilt
Cassandra Bruns, DNP, APRN, FNP-BC, Adult Kidney & Transplant Program at Vanderbilt University Medical Center.
Sarah Katherine Bryant, RN, BSN, Emergency Department Nurse at Vanderbilt University Medical Center and Nashville General Hospital
Gina Bullington, DNP, MSN, RN, NEA-BC, Chief Nursing Officer, TriStar Horizon Medical Center, Dickson, TN
Meghan Claver, MSN, APRN, FNP-C, Pediatric Neurology, SUNY Upstate Medical University, Syracuse NY
Allison Courtney, MSN, RNP-BC, Director, Branches Weight Loss and Wellness Center, Murfreesboro, TN
Jeremy Crawford, MMHC, BBA, BSN, RN, NE-BC, Senior Nursing Project Manager, Monroe Carell Junior Children's Hospital at Vanderbilt
Kathryn Dambrino, DNP, APRN, FNP-BC, Assistant Professor of Nursing, Belmont University School of Nursing
Nicole Dellise, DNP, FNP-BC, CHFN, Director, Structural Heart Program, TriStar Centennial Medical Center, Nashville TN
Kayla Felker, RN, BSN, Vanderbilt Psychiatric Hospital, Nashville TN
Jeannie Giese, DNP, FNP-BC, PPCNP-BC, Associate Professor of Nursing, Belmont University
Shane Greene, BSN, RN, Lieutenant US Navy, Marine Corps Shock Trauma Platoon and Platoon Commander, Bravo Surgical Company, Marine Corps Base Hawaii
Amy Guidera, DNP, APRN, FNP-BC, Post-Doctoral Fellow Department of Veterans Affairs Nashville, TN
Beth Fentress Hallmark, PhD, RN, CHSE-A, ANEF, Associate Professor of Nursing and Director of Simulation for the Gordon E Inman College of Health Sciences and Nursing at Belmont
Lauren Gingles Harrison, MSN, CPNP-AC/PC, Monroe Carell Jr Children's' Hospital at Vanderbilt
Alisa Haushalter, DNP, RN, PHNA-BC, Associate Professor of Nursing at University of TN Health Science Center, Memphis TN
Erick Hernandez-Campos, FNP-BC, Ascension St Thomas Medical Partners
Jennifer Hicks, DNP, APRN, FNP-BC, PMHNP, Behavioral Health Group and Samaritan Recovery Community, Nashville TN
Leigh Holdsambeck, FNP-BC, Major in the US Air Force, Nellis Air Force Base, Southern Nevada and Dobbins Air Reserve Base, Georgia
Wanda Neal Hooper, RN, BSN, MS, retired nurse leader and former president of the TN Nurses Association
Holly Kniery, MSN, RN, CRRN, FNP-BC, Vanderbilt Stallworth Hospital
Brad Koss, DNAP, MS, BSN, BS, CRNA, APRN, Manager of CRNA Education at Vanderbilt University Medical Center and President of TN Association of Nurse Anesthetists
Amy Lewis, FNP-BC, Belmont University Health Services
Kelsey Maguire, BSN, RN, PCCN, Memorial Sloan Kettering Cancer Center and master's candidate at the Hunter Bellevue School of Nursing/ College of Urban Policy & Planning
Chelsey Medley, FNP-BC, Sterling Primary Care, Brentwood, TN
Karen Moore, BS, RN, Perioperative nurse leader and member of the Belmont University School of Nursing Advisory Board
Angela Morehead, DNP, FNP, Women's Health and adjunct professor, MTSU
Celia Morse, MSN, BSN, APRN, FNP-C, Vanderbilt Medical Group Green Hills
Lauren Moss, DNP, MPH, APRN, WHNP-BC, AHNP-BC, Assistant Professor of Nursing, Belmont University
Iris Padilla, PhD, MBA-C, MSN, APRN, FNP-BC, FAANP, Associate Professor of Nursing at Duke University and Fellow in the American Academy of Nurse Practitioners.
Jordan Porter, DNP, APRN, FNP-BC, Down East Community Hospital, Machias, ME
Nikki Pritchard, MPH, BSN, RN, LCDR, NC*, USN, Director of Public Health, NMRTC Twentynine Palms, CA
Amy Robertson, MSN, RN, FNP-BC, Department of Pediatrics, Division of Medical Genetics and Genomics at Vanderbilt and Instructor, Jeanette C Rudy School of Nursing and Health Professions at Cumberland University
Jenn Scanlon, DNP, FNP-BC, Greater Lawrence Family Health Center in Boston MA
Filipina Schnabel, MD, DNP, MPH, APRN, FNP-BC, Pediatric Otolaryngology Head and Neck Surgery at Vanderbilt
Ashley Scism, DNP, APRN, FNP-BC, Assistant Professor of Nursing at Belmont
Erin Shankel, DNP, APRN, FNP-BC, Associate Professor of Nursing at Belmont and FNP coordinator
Carleigh Smith, DNP, APRN, FNP-BC, Vanderbilt Comprehensive Care Clinic, Division of Infectious Disease
Lara Grey Stahl, MSN, APRN, FNP-C, COHN-S, Captain in the US Air Force Reserves and Director of Clinical Operations Support at Premise Health in Dallas
Matt Thomas, BSN, RN, PMH-BC, TriStar Division Behavioral Health Specialty Educator Lead, Nashville TN
Emily Tomsovic, BSN, RN, Medical Intensive Care and COVID ICU at Vanderbilt University Medical Center and Belmont University Board of Trustees Alumni Regent
Jessica Turley, FNP-BC, ACHPN, Senior Director of Advance Practice Providers and Palliative Care Services at Alive Hospice
Zacnite Vargas, BSN, RN, registered nurse at Metro Public Health Department and Founder/President of the TN Chapter of the National Association of Hispanic nurses
Winston Voight, MSN, APRN, FNP-BC, Adult and Pediatric Emergency Department at Vanderbilt University Medical Center
Jess Walker, DNP, APRN, PMHNP-BC, Assistant Professor of Nursing at Vanderbilt University School of Nursing
Karah Waters, BSN, RN, CLC, Master of Public Health student and research assistant at South Florida College of Public Health
Patience Whitten, DNP, FNP-BC, Gastro One in Memphis TN and middle school athletic coach
J. Scott Woods, MSN, APRN, FNP-BC, Primary Advanced Practice Provider for the Nashville Men's Health Division of Urology Associates
Beth Youngblood, Ed.D, WHNP-BC, RN, CNE, Associate Professor of Nursing at Freed Hardeman University, Dickson Campus