As a show of gratitude to its neighbors in Metro Council Districts 17, 18 and 19, Belmont University hosted the community to watch the men's basketball team play Ohio Valley Conference (OVC) rival UT Martin last night for the University's seventh annual Community Day.
With more than 1,000 neighbors in attendance including students from a number of surrounding schools, the annual event featured dinner, face painting, a balloon artist and a drumline battle between local high schools, Pearl-Cohn and Maplewood. In celebration of University mascot Bruiser's birthday, mascots from around the city were in attendance for Bruiser's birthday party.
Keeping in line with the night's festivities, the Bruins (12-7, 4-2 OVC) were happy to bring home a win against the UT Martin Skyhawks (11-7, 3-2 OVC). With a final score of 72 to 67, Community Day attendees kept energy high in Belmont's Curb Event Center and cheered the Bruins to victory. The win marked Coach Rick Byrd's 701st career victory, and Byrd was honored before the game for reaching No. 700 last Saturday.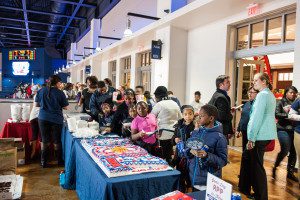 In the seven years since Community Day's creation, the event has continued to grow and Director of Community Relations Joyce Searcy said the University is honored to provide the experience to more and more neighbors each year. "One of the reasons why Belmont thrives is because we are surrounded by a community that supports and partners with us. Community Day is Belmont's way of saying 'thank you' to our neighbors."
Nashvillian and parent of a past Rose Park student Eugenia Hayes said she and her family have enjoyed attending Community Day for the past four years. Because her daughter, a sophomore in high school, is looking at Belmont as one as her choice schools, they were especially interested in attending last night's event. Hayes said she is most impressed with "the atmosphere. It's nice and comfortable and homey. Everyone is so nice and friendly."
With a commitment to community interaction, Searcy said she and the Community Day team look forward to the planning process each year. "Every year, schools, churches and community groups call us eager to participate. That means many more smiling faces of children, lots more hot dogs and more hugs for Bruiser. For some, Community Day is their first visit to campus. For others, the event has become an annual, family tradition. For Belmont students, Community Day provides an opportunity to connect with people of all ages and ethnicities as we work to integrate the University into the thriving Nashville community."