Last week, students, faculty and staff gathered in the Ayers Atrium to listen to Dr. James He Qi, artist and educator, speak about the new exhibition taking place on the first floor of the Janet Ayers Academic Center. Titled Witness to Faith, it showcases the work of 20th Century Japanese Christian artist Sadao Watanabe, of whom Dr. He Qi was a student.
Sadao Watanabe (1913-1996) was a premier Japanese artist known for his creative spin on katazome, a stencil art form used for dying fabric. Dr. He Qi explained how Watanabe sought to bring the gospel to ordinary people through his pieces, illustrating prominent stories from the Bible in the style of traditional Japanese folk art. One of his most famous works is a representation of the Last Supper, complete with a spread of fish and sake, each biblical character clothed in the Japanese dress of kimonos. Watanabe once said, "My task is to stand within the artistic tradition of Japan…Theology will not take deep root in Japanese soil if it is merely an import."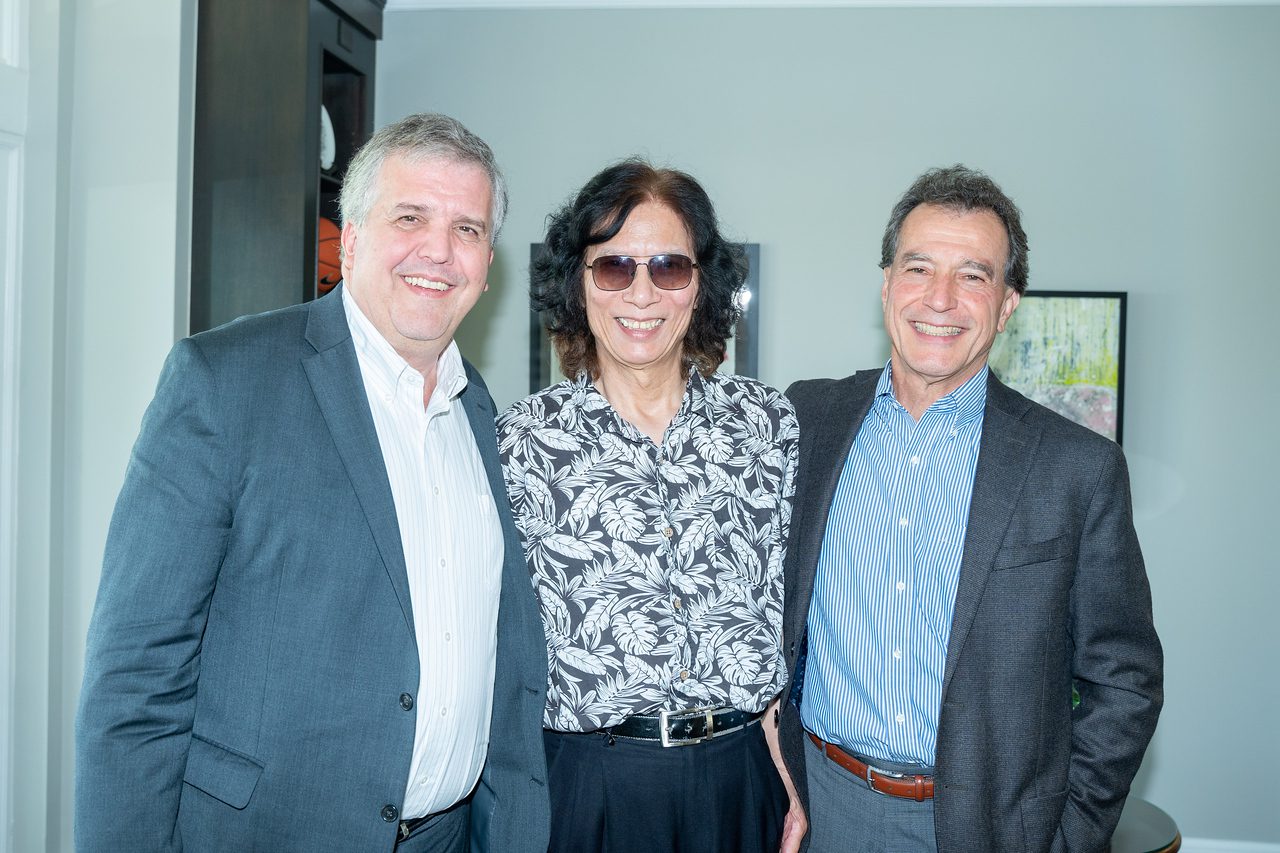 Along with showcasing his pop-up exhibit in company with Watanabe's on Sept. 20, He Qi also gave lectures in History, Asian Studies and Art classes and gifted one of his own prints to Belmont's permanent collection. A graduate of Nanjing Normal University in China, he has gone on to become a visiting professor and artist-in-residence both in the U.S. and beyond. He Qi's work has been featured in multiple galleries and outlets around the world, earning him International Biographical Centre's 20th Century Award for Achievement in recognition of outstanding contributions to the field of Religious Art Theory and Christian Art Creation, among several other awards throughout his career. 
Hosted by the College of Art, Asian Studies, and Office of Faith-Based Engagement & Church Relations, Witness to Faith is the first of many shifting exhibits changing semesterly. Each will be focused on Christ-animated art as part of a new initiative to engage students in examining the ways faith can be interwoven within numerous fields. Students in Watkins College of Art will also be creating prints inspired by Watanabe's work this semester. More information on the Witness to Faith exhibit and its next locations can be found here.
The next rotation will begin in the Spring 2023 semester with an exhibit by prominent African-American folk artist, Rudolph Bostic, known for his bright and colorful depictions of biblical scenes displayed on cardboard. In collaboration with the Welcome Home Diversity Council, the gallery will be one aspect of Belmont's Martin Luther King, Jr. Week and Black History Month celebrations.