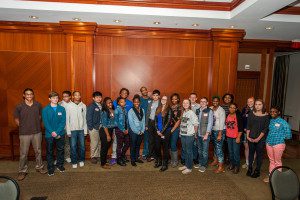 Belmont University's College of Liberal Arts and Social Sciences (CLASS) recently launched its newest program, CLASS Seminars, for area high school students to attend lectures and participate in collaborative experiences in education, humanities and social sciences.
Comprised of 24 sessions, the series begins in the Spring of participants' sophomore year and continues through the Fall of their senior year. Students in the program will attend cultural events such as the Nashville Shakespeare Festival winter performances and the Belmont Humanities Symposium. The remaining sessions will be seminars presented by Belmont professors and other experts in the community.
The program's inaugural class, selected from an applicant pool of 113 nominees, is made up of 26 students from 10 Davidson County high schools and will begin in January with the Nashville Shakespeare Festival's performance of "Twelfth Night."
The program is designed to educate students on what the humanities and social sciences have to offer and introduce them to subject matter that might not be covered in their daily high school curriculum. After completing the seminar series, participants will have a better understanding of where their interests lie and possible collegiate majors that could be a natural fit.  In addition to participating in educational lectures and experiences, students will complete community service projects, a required aspect of the CLASS Seminars.
Associate Dean for Faculty and CLASS Seminar leader Dr. David Curtis said, "This is the kind of program the College of Liberal Arts and Social Sciences wants to be known for. We want Belmont to be seen as a destination school for studying the humanities, social sciences and education. We also see the program as a way of reaching a wider audience about what the Liberal Arts and Social Sciences are and how they help people live more fulfilling and participatory lives."
Kristen Douglass, a parent of one of CLASS Seminar's inaugural scholars, said she is glad her daughter is participating in Belmont's program as she knows it will contribute to her overall self-confidence and will allow her to experience areas of learning that she hasn't been exposed to previously. "[My daughter] is very aware of how important it is for her college resume to have a variety of experiences, such as this one, that will make her stand out among her peers," she said. "I hope [she] and her cohorts will find their voices and will firm up their communication skills, as well as some critical thinking abilities."