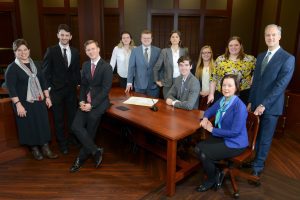 Belmont University's first undergraduate American Mock Trial Association (AMTA) team participated at the 2017 Louisville Regional Tournament at Bellarmine University February 24-26 with 21 other teams. The team is sponsored by Interdisciplinary Studies and Global Education. In its debut competition, Belmont's inaugural team performed admirably in four rounds against seasoned competitors from the University of Tennessee, UAB and MTSU, splitting the first ballot in their first round against UT. Invaluable, complimentary feedback from attorney judges suggested ways to prepare for future tournaments.
"We're thrilled to give wings to student initiative and add Belmont's name to the list of prestigious undergraduate institutions that compete in AMTA. It is an excellent co-curricular activity for students who hope to develop presentational and rhetorical skills or to learn through experience about the practices of the justice system that is so integral to our democratic society," said Dr. Mitch McCoy, Belmont's coordinator of the minor in legal studies and faculty sponsor of Belmont's team. "I had the pleasure of watching all four rounds in which Belmont competed and was truly impressed by the dedication and seriousness that each team member showed throughout the three day tournament."
"The Belmont University Mock Trial Team was able to be founded through the support of some amazing people whose expertise has allowed our team to soar beyond anything that I imagined," said sophomore philosophy major Blake Simmons, founder of the undergraduate Mock Trial team. "I pitched this team as a way to give back to a school that has given me so much. I have no doubt that our team will continue to grow, thrive, and earn prestige."
Mock trial is a simulation of lower-court trials in the United States judicial system. AMTA acts as the governing body for intercollegiate mock trial competition and hosts tournaments at universities across the nation to provide opportunities for college students to gain experience for future law careers. Through the trial simulations, students develop critical thinking and public speaking skills, as well as a knowledge of legal practices and procedures.
New to Belmont this year, the undergraduate Mock Trial team is led by Belmont College of Law 1L Margaret Connor who ably coached and offered her congratulations to the team for this first important step in establishing a trajectory toward excellence in AMTA.
Along with Simmons, team members include freshman music business major Matt Nino, sophomore music business major Becca Sweett, freshman motion pictures major Sarah Lancaster, freshman music business major Karl Kleppe and senior music business major Eric Donica.
At tournaments, team members assume the roles of witnesses, counsel for plaintiff or counsel for defendant. Since the team is only notified of which side it will represent just prior to the round, all team members are prepared to take on more than one role.