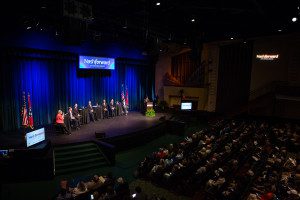 Belmont University and The Tennessean, with broadcast partner WSMV-TV, presented the first of two Nashforward debates, the city's premiere Mayoral Debate Series, on Thursday, May 21 in Belmont's Massey Performing Arts Center.
Held in front of a packed crowd of close to 1,000 attendees, the debate featured all seven candidates currently vying for Nashville's open mayoral seat: Megan Barry, Charles Robert Bone, David Fox, Bill Freeman, Howard Gentry, Jeremy Kane and Linda Eskind Rebrovick. Candidates addressed a variety of topics including leadership experience and style, crisis management and platform stances to ensure voters are well-informed on the issues facing Nashville as they head to the polls in August.
The Nashforward Series also included an opportunity for seven Belmont students to work alongside Tennessean Engagement Editor and event moderator David Plazas to write profiles on each candidate after reviewing a recent interview. Viewing the candidate's platform with a millennial's perspective in mind, the student profilers asked questions representing Nashville's growing millennial population.
Belmont President Dr. Bob Fisher said, "We have long said that being in Nashville is one of Belmont University's finest assets,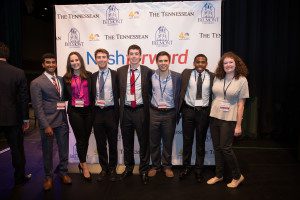 and this institution is committed to returning that benefit through engagement with, and service to, our city. Hosting these debates also connects well with our mission to provide students with significant real-world educational experiences, demonstrating first-hand how they can be change agents in our community and the broader world."
The Series's second debate, a town hall style event, will be held on Thursday, June 18 at 6:30 p.m. in the McAfee Concert Hall at Belmont. With the Nashforward students participating and asking questions, this debate will focus on millennials and how, as Mayor, the candidates would lead with this growing demographic in mind. Tickets are available at www.belmont.edu/nashforward.