Belmont University, in partnership with Nashville Public Television (NPT), celebrated the premiere of NPT's "Facing the Laughter: Minnie Pearl" on Thursday, Jan. 19, a documentary honoring the life and legacy of Ward-Belmont alumna Sarah Cannon ('32) and her beloved character Minnie Pearl.
The soon-to-be-released documentary features the dichotomy between Sarah and her character Minnie. Sarah was serious, intelligent, ambitious and untraditional; Minnie was uncomplicated, direct, playful and quite traditional. Sarah dreamed of becoming a Shakespearian actress but found fame playing a simple country girl who never took herself too seriously.  
"You're going to see just a peep into the window of Minnie Pearl's life," said filmmaker Barbara Hall. "You can't begin to tell someone's story—especially someone as complicated as Minnie Pearl—in 90 minutes. I had so many people who came forward wanting to talk about Minnie. I also started having to take a box of tissues to every interview because everybody cried…and laughed… but mostly cried. I think it's because they miss her and because she had such an impact on everyone's life"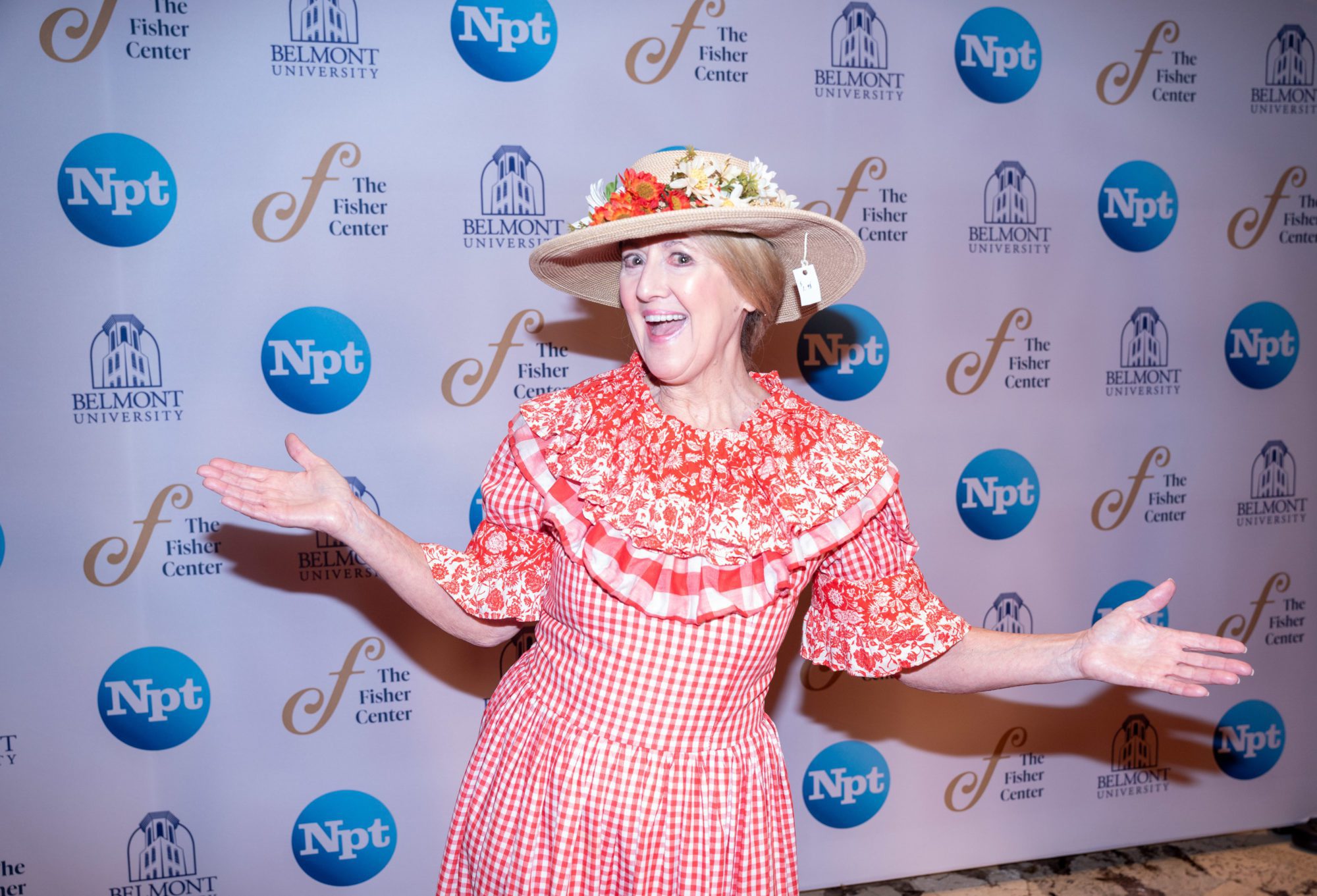 The premiere event in Belmont's Fisher Center for the Performing Arts featured stories and songs shared by both friends and fans of Minnie. Sylvia Harney—a Minnie Pearl character actress, Belmont College alumna and dear friend of Sarah Cannon—performed a tribute sketch.
Singer-songwriters Rodney Crowell, Pam Tillis and Kathy Mattea performed; friends Amy Grant and Brenda Lee shared reflections and Dr. Mary Ellen Pethel—Belmont Assistant Professor, author and Harpeth Hall School archivist—led a panel with filmmaker Barbara Hall, music historian Dr. Don Cusic, Sarah's longtime agent Joann Berry and Kathy Mattea.
Hats inspired by Minnie and created by Belmont fashion students lined the Fisher Center Foyer, and theater student Susie Konstans created Grinder's Switch vignettes as stage props and photo booths. Belmont's Bluegrass Ensemble performed prelude music before the event.
"She was an incredible legend and a friend to all of us," said NPT President and CEO Becky Magura. "The thing I love about Minnie Pearl is that when she stepped out on stage and said, 'I'm just so proud to be here,' it's because she wanted you to know she was here for you. Minnie shared more than humor, she shared love. That's what you're going to see tonight."
Instantly identifiable—even in silhouette—by her straw hat with a price tag dangling from its brim, Minnie Pearl became an icon of country music radio, stage and television. When she greeted audiences, they enthusiastically echoed her signature "How-dee!" in a happy roar. While Sarah and Minnie were two sides of a coin, both shared a legacy of compassion, empowerment and humor.
"Sarah Cannon was an exemplar of Belmont's mission, so much so that this University awarded her our highest honor—an honorary doctorate—in 1989," said Belmont President Dr. Greg Jones. "My hope is that many of our students, a number of whom are studying performing arts and entertainment, will look to her as a role model. She once mentioned during a television appearance that 'to live forever in the hearts of our friends is to never die.' Tonight, her memory is alive and well in all our hearts."
"Facing the Laughter: Minnie Pearl" will premiere in a one-night-only theater event on Monday, Feb. 6, presented by Fathom Events. The film will air in select theaters nationwide for two showings at 4 p.m. and 6:30 p.m. Reserve your tickets today.  
See a gallery of images from the event.