Belmont University celebrated a successful Homecoming last week as the institution welcomed hundreds of visitors to campus for a number of festivities. Culminating with Saturday's all-day celebration that featured reunion breakfasts, coffee for parents, a prayer and worship service, a Tailgate at the Tower complete with BBQ and all the fixins and more — both the women's and men's basketball teams defeated Tennessee State with impressive scores of 84-59 and 84-42, respectively.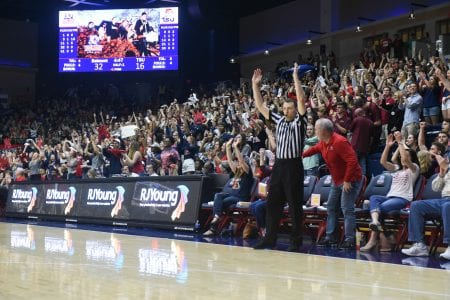 But campus's "Together We Celebrate" Homecoming celebration didn't occur on Saturday alone. Leading up to game day, Belmont community members engaged in many events all week across campus. Continuing with last year's introduction of theme days, the week began with Mission Monday which featured a special chapel, a nonprofit alumni fair and an alumni panel for students. TShirt Tuesday invited students to 'give a shirt, get a shirt' as free Homecoming tshirts were given throughout the day.
WOW Wednesday, a crowd favorite, brought surprise pop-up events all day long including doughnuts and coffee in the Massey College of Business, a basketball shot game beside the lawn and a popcorn afternoon snack bar hosted by Senior Leadership. The next day, the Belmont community shared their gratefulness throughout Thank You Thursday, providing personalized thank you notes for fellow bruins.
FANtastic Friday kicked off the weekend, and included a few unexpected surprises, as the Belmont community prepared for Saturday's games. The morning began with the annual Polar Bear 5K and the day ended with the "Celebration of Song" Homecoming in the Round concert. This year's event featured many successful alumni musicians and one very unexpected guest — Garth Brooks.
For images from the week's festivities, click here.