Instead of traveling the country or spending their fall breaks visiting family, 70 members of the Belmont community spent time serving in five locations across the U.S. as part of the University's "Plunge" Fall Break program. Having the opportunity to serve vulnerable populations through serving meals in homeless shelters, tutoring local children, participating in construction projects and engaging in important dialogue surrounding relevant issues, the five groups were led by student volunteers and Belmont staff members.
In Cincinnati, one group worked with the city's Urban Promise (CUP), an inner-city ministry that works with underserved populations. Getting a first-hand look at rising home prices and their impending economic impact, participants assisted CUP as it moved into a new facility better positioned to serve their clients. CityLights, an urban ministry in St. Louis, hosted a group who completed construction and renovation projects while spending time with local families who recently settled in the area.
The remaining groups traveled to Memphis, Birmingham and Atlanta where they worked with local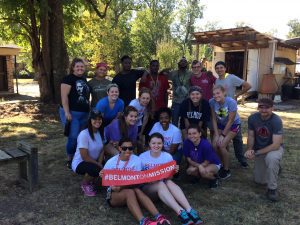 ministries that host college groups for alternative break trips. In Memphis, student participants hosted a community fair and experienced the city's history as they visited the Civil Rights Museum. At Birmingham's Rush Center, a fourth group worked in an urban garden, painted homes for low-income families and worked at an after-school program. The final group spent time in Atlanta where they volunteered for a tutoring program and spent time at a homeless outreach center, among other things.
Student leader Sean Grossnickle traveled to Memphis for the first time and worked alongside Serve901, an organization committed to impacting communities all around the city. Centered around racial and educational injustice, Grossnickle said the trip ignited an interest in him to use the gifts and passions he's been given to change lives. "This trip was a great way to open eyes and minds to how to be the hands and feet of Jesus to a city's people," Grossnickle said. "By the end of the trip, I felt like I knew Memphis and a part of the city will always stay with me."