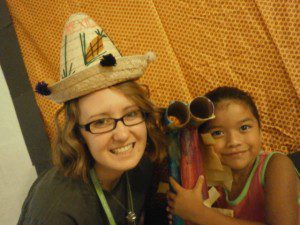 Three Belmont students are working with Project Transformation Tennessee, which seeks to address three unique challenges with one program: meet the academic, physical, and spiritual needs of children from low-income communities; provide meaningful ways for college-age young adults to explore ministry opportunities and develop as young principled leaders for the church and the world; and help revitalize churches.
Project Transformation Tennessee harnesses the creative energy and ideas of young adults who live in intentional Christian community and who plan and implement free summer day camp programs for children and youth in under served neighborhoods. The programs are held at United Methodist churches located in the heart of low-income neighborhoods, thereby helping those churches connect in meaningful ways with their communities.
Three Belmont students serving with Project Transformation are Casey Enright (a sophomore church leadership and administration major), Christine Anderson (a sophomore social entrepreneurship major) and Natalie Webb (a junior social work major).
Enright said, "This is my first year working with Project Transformation, and it has been a life changing summer. Not only am I building a relationship with the kids that I work with, but also my fellow interns and different organizations that we meet through our organization."