Students find countless ways to engage with the organization's mission
Earlier this semester, Belmont students joined Vice President of Donor Engagement at Sweet Sleep and former Belmont staff member Lisa Wilson for the organization's inaugural bed build for children in need. Focused on demonstrating God's love and hope in Christ to the world's orphaned and abandoned children, Sweet Sleep is dedicated to improving the quality of life for children all over the world.
The group was joined by members of Nashville First Baptist church, partners from United Way of Metropolitan Nashville and Nashville Predators staff to help with the first of three builds as a part of Belmont's Annual SERVE Day, an important part of Towering Traditions new student orientation.
With a $5,000 grant from the Predators and discounted pricing on supplies from Lowe's and Home Depot, Sweet Sleep will be able to build 75 beds for children removed from unsafe situations. "This is our first year to build," Wilson said. "The grant from the Predators led us to building the beds, which gives people something hands-on to do with us."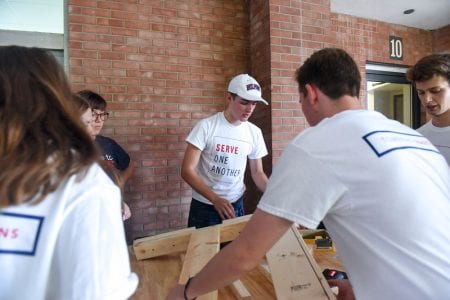 In addition to the bed build, Sweet Sleep leads sheet and blanket drives throughout the year and hosts convocations on Belmont's campus. Residence Life also recently donated more than 600 mattresses to Sweet Sleep's dorm mattress recycling effort. "We make sure the department of child services can make use of the mattresses wherever they have a child in need," Wilson said. "We're a very small organization with only two staff members in the states. All of this happens because of volunteers and donors."
Jamie Smotherman, a Belmont journalism graduate, works part-time with Sweet Sleep as the organization's social media coordinator. Wilson said she hopes for Belmont students to look for future opportunities like these with Sweet Sleep, including internships, positions on their advisory committee and future builds and donation collections.