Through the introduction of student-run company EVAmore, Nashville's music industry is encouraged to do 'even more.'
Belmont juniors Channing Moreland and Makenzie Stokel have brought new talent, innovation and energy to Nashville's music industry. Through their participation in the Entrepreneur Center and County Music Association's Project Music, the nation's first tech accelerator dedicated to music, the duo launched their company, EVAmore, at last week's Start-up Showcase.
Moreland said she and Stokel were eager to learn more about Project Music for their initial concept, What's Hubbin,' an event discovery platform. After planning and producing a number of events together surrounding What's Hubbin's promotions, the team discovered the challenges many industry professionals find when tasked with booking talent for an event. Coupled with the pain point emerging artists feel when trying to break into the market, Moreland said she and Stokel knew they needed to "pull back the curtain and show that anyone can book a band for an event. Project Music provided the opportunity and ammunition to do so." EVAmore was born to fill that gap, providing a smart technology platform for event planners to connect with and book artists while bringing quality up-and-coming artists to booking agents.
The start-up was one of eight companies that participated in the accelerator, a 14-week boot camp that included 15 hour work days, sessions with mentors and industry experts, practice pitch classes and as Director of Project Music Robbie Goldsmith said, "3,500 cups of coffee and 31,920 collective hours of work." The goal of the project was simple – fund the eight start-ups to retain talent in Music City and "plant a flag in Nashville as the future of the music tech industry."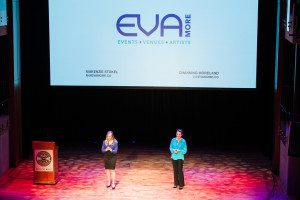 Through working directly with mentors specifically assigned to EVAmore, Channing said the experience was like going through a master's level program in 14 weeks. The biggest lesson? "I learned to shut up and listen," Channing said. "If you listen and then try, you cut out so much wasted time and effort." The team said they are grateful for the work their mentors devoted to EVAmore's development and the relationships they built. "Our mentors have not only become our role models, but they are people we plan to keep relationships with for the rest of our lives. The time they have given us has been uncanny, and it's the reason we are where we are today."
As the youngest participants in Project Music, Channing said the duo started as the "underdogs," but since participating in the accelerator, the future is bright for EVAmore. With a launch party scheduled for this week and a trip to pitch to potential investors in New York coming soon, Channing said the summer will be devoted to product development, enhancement and market testing. With growth options on the horizon, the team wants to devote their efforts into ensuring the strength of their product.
Post launch, EVAmore plans to focus on a specialized market of Greek organizations at college campuses, starting with the southeast. With 900 chapters in the region spending an average of $60,000 – $120,000 on events annually and limited experience and resources in the music and event planning industries, EVAmore hopes to fill the gap.
In September, the company is aiming to have five universities on board and by January 2016, 65 Greek social chairs exclusively using EVAmore to book event talent. Using this model, the investments that are sure to come and the advice procured by Project Music's experts, Channing and Stokel hope to "produce events, create venues and empower artists to do even more" through EVAmore.