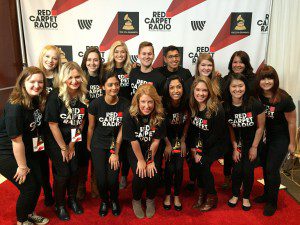 Service Corps, a Belmont student organization dedicated to providing student experiences in the music and entertainment industries, took 22 members to this year's Grammy Week in Los Angeles. While there, students had the opportunity to take part in a variety of hands-on industry experiences that placed them directly in the excitement of the events. And two students connected to Belmont even performed on the red carpet during a Grammy pre-telecast event on E.
Fifteen students participated as talent escorts in the two-day Grammy Radio Row, an event where celebrities and their teams interview with stations all over the U.S. All 22 students participated as escorts for Friday's MusiCares Gala on the red carpet. On Saturday, students participated in the Grammy Special Merit red carpet and awards show to assist with event logistics, and on Sunday students worked the Grammy red carpet as escorts to nominees and guests of the Recording Academy.
College of Entertainment and Music Business Dean Doug Howard said, "Belmont University always has a presence at the Grammys through our talented alumni being recognized for their great work. What many may not know is that for the past 15 years, our students have had the opportunity to work behind the scenes at Grammy Week through Service Corps―a student organization that volunteers for industry events ranging from CMA Fest to Sundance.  I'm so proud of our students who have consistently demonstrated a high level of professionalism through the years at our industry's highest profile events.  And we are very grateful to NARAS and Rogers & Cowan for continuing to give our students these remarkable experiences."
In addition to assisting backstage, two individuals from the Curb College kept the momentum of their December viral video going with a live, televised performance prior to the Grammy Awards telecast. Former student Louisa Wendorff and current student Devin Dawson performed their Taylor Swift mash-up on E!'s "Live from the Red Carpet" before Sunday's airing. A video of the song, comprised of Swift's "Blank Space" and "Style," was released by the duo on YouTube in late December and saw immediate success, including Swift's Twitter endorsement that included just one word, "OBSESSED." The single has since flown up the charts, landing as high as the Top 20 on iTunes overall Top Songs ranking, while the video has now been seen by more than 17.5 million viewers on YouTube.
Belmont's Service Corps students agreed that the opportunity to travel and participate in Grammy Week was an invaluable one. For senior public relations major and music business minor Lexie Ferrell, the trip revealed an entire aspect of the industry that she wasn't aware of.
"I have been introduced to the country aspect of the music industry the past 3 ½ years in Nashville and had thought that I was going to stay in Nashville and work in that part of the music industry," Ferrell said. "Now my eyes have been opened to how colossal the music industry is and the endless possibilities that await."