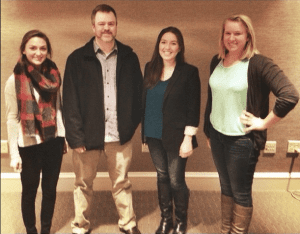 Students from the Curb College of Entertainment and Music Business launched a songwriter management organization this past fall, aiming to be a bridge between Belmont University and Music Row. The student-run organization, Bear House Writer Management, hopes to provide students with networking opportunities, meetings with industry professionals and exposure to other songwriters.
Through Bear House, selected student writers are paired with student managers in order to help both sides realize and harness their full potential. The organization currently supports nine student songwriters, including Devin Dawson who recently gained recognition after releasing a Taylor Swift mashup with Louisa Wendorff, which was shared by Taylor herself.
Bear House also works with Eric Burgett, who opened for Phil Vassar this past December, Hunter Leath who released his EP, From Where You Are, on Jan. 6 and Hannah Rand who performed at Belmont's Best Of The Best Showcase last year as the winner of an ASCAP Writers' Night. Bear House Writer Management's roster also includes Bailee Rainwater, Emily Landis, Jillian Linklater, Johnny Murphy and Shawn Gough.
You can learn more about Bear House Writer Management by clicking here or by contacting them directly at bearhousewritermanagement@gmail.com.