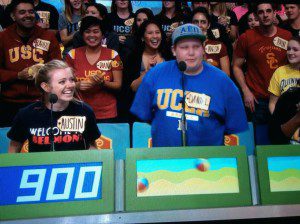 Austin Williams, a junior theatre performance major, competed in last week's "Price is Right" Spring Break Edition and took home more than $32,000 in prizes including trips to Las Vegas, Cancun and Spain, an Apple Macbook, iPad and iPhone and a Quadcoptor.
Williams is spending this semester in Los Angeles studying at Belmont West, a semester-long program where students reside in LA, study with local professionals and get access to some of the most exclusive internships in film, television and theatre. With West's sister program, New York's Belmont East, the University sends more than 25 students each semester to study in Nashville's sister entertainment cities.
Williams said she and a few other Belmont West students were initially planning to attend "Whose Line Is It Anyway" as audience members when they learned of free tickets to the Spring Break Edition of "Price is Right." Williams was the second contestant selected for the show, successfully bid on the Quadcoptor, won her game after identifying the price of an all-inclusive Cancun trip and spun an 85 on the big wheel, sending her to the Showcase Showdown.
During the Showdown, Williams selected the first package of Apple products, luggage and a trip to Spain. Her bid came within $5,000 of the retail price, after her opponent overbid, earning her the included prizes.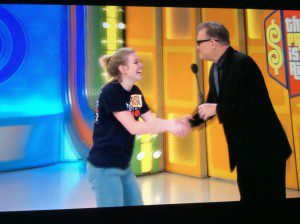 Williams said the best part of being on the show was meeting Drew Carry, her long-time inspiration for pursing theatre and comedy. "During commercial breaks, I had the opportunity to talk to [Carrey] about his past in comedy and briefly mention that I am currently involved in my school's sketch comedy troupe, Follies."
The chance to study at Belmont West has been a life-changing experience for Williams, as she has solidified what she wants to do after graduation. "Belmont West has been an incredible adventure. I am making great connections and furthering my career, before I even graduate."
To watch Williams's episode, click here.