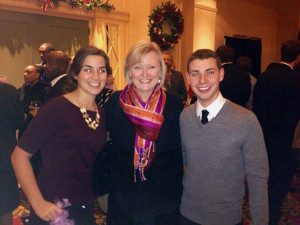 Belmont nursing student Patrick Haltom was recently honored as Student Nurse of the Year at the fourth annual March of Dimes Nurse of the Year Awards held Dec. 10 at the Franklin Marriott Cool Springs. This event recognized nurses who embody leadership, compassion and excellence in patient care across several nursing specialties.
"These nurses are very deserving of this honor, and we are pleased to play a role in saluting these patient champions for the care they provide daily," said Susan Peach, chief executive officer of Highpoint Health System and chairwoman of the Nurse of the Year Event.
Haltom was one of 16 Middle Tennessee nurses to receive top honors at the March of Dimes event. More than 5,000 nurses were nominated nationwide including 160 in the Middle Tennessee area, including Belmont senior Kelsey Maguire. Winners were determined by a selection committee that included health care professionals.
"I am honored to be selected for this award. The March of Dimes is an organization that I greatly value because of my own personal experiences as a premature infant. I feel blessed to have so much support from the Belmont community, the Nashville community and from my friends and family at home, all of whom have taught me the traits and abilities I need in order to provide the best care for my patients," Haltom said.
This year's event was presented by Sumner Regional Medical Center. Dr. Cathy Taylor, dean of Belmont's College of Health Sciences and Nursing, served as the honorary chairwoman. Other sponsors included Curb Records, Healthcare REIT, Amerigroup and Belmont University College of Health Sciences and Nursing.