Belmont business administration student Kathryn Vasilopoulos spends her days split between classrooms and the stage — the Nashville Ballet stage, that is. After moving in Nashville in 2008, immediately following her high school graduation, Vasilopoulos joined the Ballet and began her career as a dancer. Knowing college was always in her sights, she looked towards Belmont's adult degree partnership with the Ballet and decided to begin school part-time.
"A ballerina's career can be short and unpredictable," she said. "So besides having interest in attending school, it also made sense to be thinking of a future career post dancing." Though she's not sure what she'll do with her degree after graduation, Vasilopoulos says shes grateful for her courses in accounting, finance and economics, specifically, and would be interested in moving into those fields professionally. As an artist now, Vasilopoulos said she's becoming more and more interested about moving away from what she's known and into a different environment that presents a new sort of challenge. "Someday in the distant future, I could see myself combining my business degree and ballet knowledge by holding a staff position with Nashville Ballet or a similar arts organization," she said. "But I think immediately after retiring from dancing, I'd enjoy trying something completely new."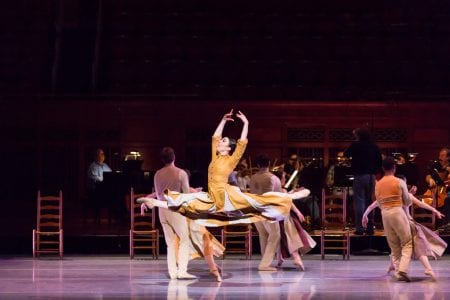 As a dancer with the main company, Vasilopoulos has had the opportunity to create countless roles on the stage. Always knowing she wanted to pursue a career in dance, Vasilopoulos began seriously preparing for her future at 16-years-old when she spent the summer at a ballet summer program in Saratoga, New York. The next year, she moved to Ballet Academy East, a ballet school, while ending her high school career at Professional Children's School, a flexible educational environment that allowed her audition for many ballet companies–leading her to the position she now holds with the Nashville Ballet.
This summer, Vasilopoulos will have a break from her time at the Ballet, as the company's schedule matches that of a traditional school schedule. She'll spend time visiting family, taking classes on campus and ensuring she stays in shape and ready to begin next year successfully.
Looking back on her years at Belmont, it's the people that stand out most vividly. "Every staff member has gone above and beyond to help me succeed, despite my nontraditional path," Vasilopoulos said. "My advisers even travel to the Ballet to do advising sessions during our midday rehearsal breaks. It makes Nashville feel even more like home to me to have such a wonderful community at Belmont."
Feature photo taken by Heather Thorne.