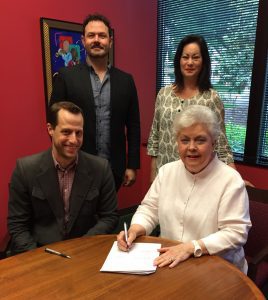 Belmont's musical theatre program recently signed a cooperative partnership agreement with Franklin-based Studio Tenn Theatre Company. Through this partnership, the two entities will join together to provide mutual opportunities for the University's musical theatre majors. Such opportunities will encompass obtaining experience working with a professional equity theatre company, strengthening professionalism and community visibility of both parties, while providing valuable networking opportunities.
"Belmont is delighted to announce this official collaboration with Studio Tenn," said Dr. Cynthia Curtis, dean of the College of Visual and Performing Arts. "Belmont musical theatre students will benefit greatly from the high-quality, professional experience Studio Tenn will offer them, and we believe Studio Tenn will benefit from the exceptional talents of Belmont students. This collaboration bodes well for all involved, especially the growing theatre community in middle Tennessee and future audiences who attend performances at Studio Tenn."
Jake Speck, Studio Tenn's managing director, agrees. "We are thrilled to solidify this partnership with one of the leading collegiate musical theatre programs in the southeast. Education and strategic alliances have been key to Studio Tenn's mission and vision from the beginning. This collaboration allows us to make great strides in both of these areas."
Studio Tenn is currently preparing to wrap their 2015/2016 season with the upcoming production of "West Side Story." Choreographing the show is Belmont musical theatre faculty member Emily Tello Speck. Additionally, five of the cast members are current Belmont musical theatre students and four are alumni of the department.
This Broadway blockbuster will be live on stage for three shows at the Schermerhorn Symphony Center Friday, June 3 (7 p.m.) and Saturday, June 4 (2 p.m., 7 p.m.). Tickets are available now at nashvillesymphony.org or by calling the Schermerhorn Box Office at (615) 687-6400.