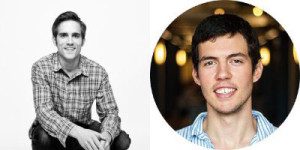 Belmont seniors Andrew Trask and David Gilmore had their papers accepted independently to the 12th Annual Consortium for Computing Sciences in Colleges (CCSC) Mid-South Conference. They presented their papers at The LeMoyne-Owen College in Memphis, Tenn. on April 5. CCSC Mid-South conference seeks to provide a forum for the exchange of information on computing and computing education.
Trask graduates in May with a Bachelor of Business Administration in Finance and Bachelor of Science in Applied Discrete Mathematics. His paper, "Distributing a Fully Connected Neural Network: A Novel Approach," describes a novel approach to distributing artificial neural networks, which reduces their evaluation time by an order of magnitude.
Gilmore graduates in May with a Bachelor of Science in Computer Science. His paper, "Online-analytical processing: RDBMS vs. Hadoop," describes a way to speed up a common business query task from seven hours to 12 minutes.