Senior Politics and Public Law student Keidron Turner was selected among 175 college students nationwide for the ALL IN Campus Democracy Challenge's (ALL IN) second annual Student Voting Honor Roll.
ALL IN empowers colleges and universities to achieve excellence in nonpartisan student democratic engagement. Campuses that join the ALL IN Campus Democracy Challenge complete a set of action items to institutionalize nonpartisan civic learning, political engagement and voter participation on their campus.
"It's truly an honor to be selected for the ALL IN Student Voting Honor Roll," Turner said. "Having been a part of the initiative since 2020, I've seen the engagement on campus grow far greater than I could have ever imagined. It's been a long journey with many successes and failures, but it has always been about the learning process of enacting such an important plan and finding ways to leave a good foundation for the next set of student leaders to move the initiative further."
The student honor roll recognizes college students at participating campuses who have gone above and beyond to advance nonpartisan student voter registration, education and turnout efforts in their communities. The diverse group of honorees spans 39 states, including 35 students at minority-serving institutions and 23 students at community colleges.
Belmont received the ALL IN Voter-Friendly Campus (VFC) designation for 2023-2024, announced in March. The university was one of only four schools in the state to receive the designation this year. The VFC designation was also awarded for the 2021-2022 academic year when Belmont's student body experienced peaked engagement leading up to the 2020 presidential debate hosted on campus.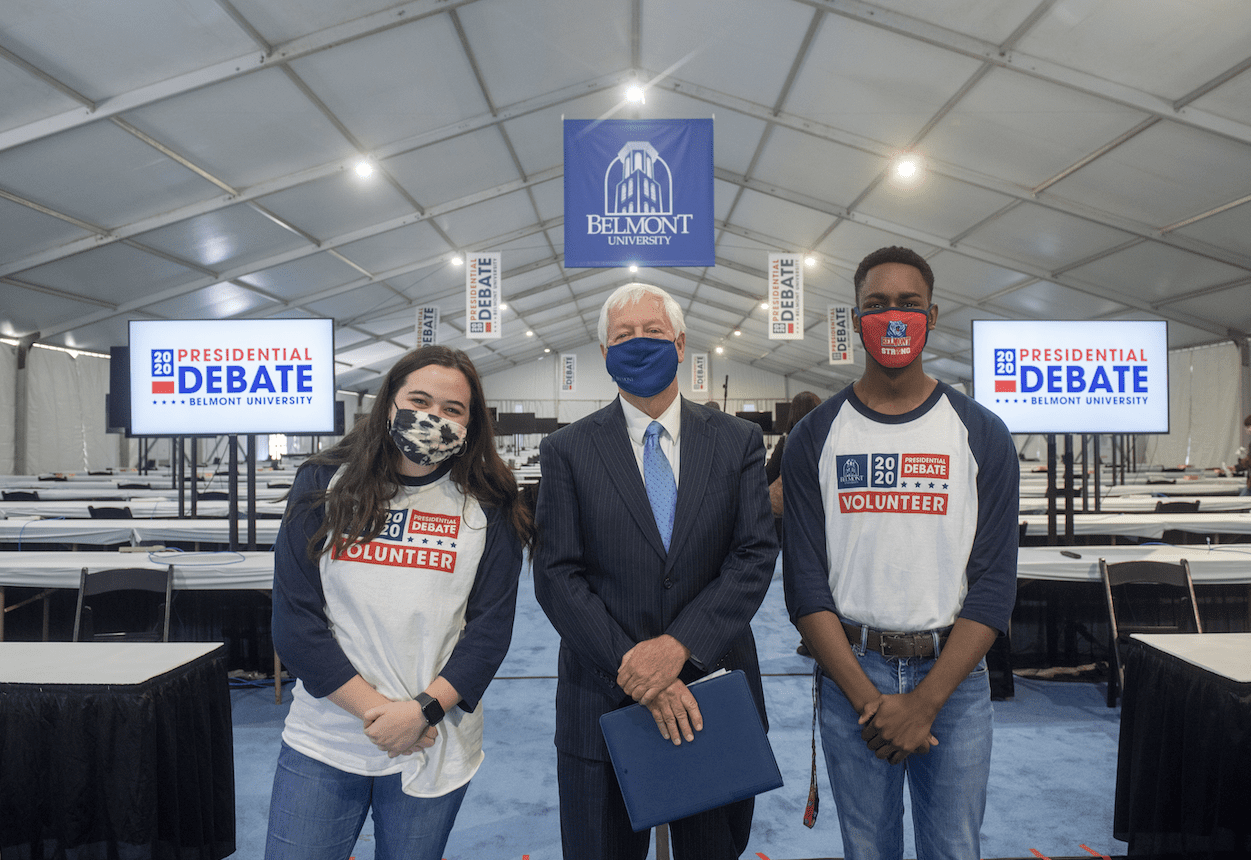 "Our biggest driver for increasing civic engagement on campus was working with Tim Stewart and the Office of Service Learning to bring the VFC initiative to Belmont University at the height of the 2020 Debate," Turner said. "Since then, our driving force in civic engagement has been finding ways in which voting efforts can be institutionalized into the daily lives of students here at Belmont. That includes giving the initiative a permanent home in the Student Government Association, creating a voting resources page on the Belmont University website, implementing multiple social media campaigns during major civic holidays, and ultimately encouraging students to realize and appreciate the power their individual vote has in all elections, big or small."
The senior will graduate in May and has made the most of his time at Belmont, serving in numerous leadership roles as a student and in his community. As a student, Turner was an SGA senator and the 2020 Debate Student Engagement Committee co-chair.
"I'm so proud of the work that Keidron has done and am glad to see him get this recognition," Director of Service-Learning Tim Stewart said. "It was Keidron's leadership as an SGA senator that led to the SGA constitution being revised to include voter registration, education and turnout as being specific roles for the SGA to engage in for the University, something that helped us receive the designation as a Voter Friendly Campus."
Turner was recognized by the Tennesse State Legislature for his work as a legislative intern in 2021 and was instrumental in co-organizing an equality march in his hometown of Pulaski, TN. He will serve as a Young Alumni Regent for Belmont's Board of Directors.
Last year's midterm elections saw one of the highest youth voter turnouts in a midterm election in the last 40 years – an estimated 23 percent of young people ages 18 to 29 turned out to vote. ALL IN engages more than 9.8 million students from 965 institutions in all 50 states and the District of Columbia.