Belmont University was recently selected as a stop on student-led nonprofit Turning Green's nationwide road tour to inform, inspire and mobilize college students around conscious living and sustainable practices. Traveling to 16 universities, the Conscious College Road Tour seeks to encourage students to make educated choices in their day-to-day lives that benefit the health of both people and the planet.
The tour includes two main components designed to help students work to create change in their lives and on-campus, both of which were held earlier this week to celebrate Turning Green's arrival to campus.
The Conscious Information Station, an informational event for students and administrators, included 7 stations that featured all aspects of sustainable living. Attendees toured booths sponsored by Turning Green as well as Belmont's ECO Club, Slow foods and the Environmental Science Program to learn more about converting their lifestyles from conventional to conscious. The Town Hall Meeting was held later in the day and served as a dinner gathering for approximately 70 students, faculty, staff and school leaders to focus their attention on developing a student-led sustainability project on campus.
During the Meeting, students discussed a number of initiatives that would continue to shine a light on campus sustainability. Discussion topics included having readily available FLOSN (fresh, local, organic, seasonal, non-GMO) food on campus, encouraging the use of reusable bags instead of plastic, carpooling to local farmer's markets and hosting a series of convocation events on living sustainably. After the meeting, a group of 10 students came together to organize a leadership group that will oversee the implementation of these student projects.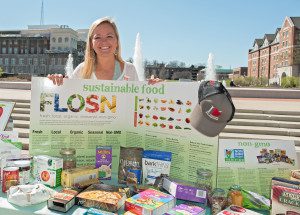 ECO Club President and Event Organizer Lindsay Millward said the educational aspect was one of the most impactful parts as students might not have been aware of these environmental challenges previously. By attending these events, new information was made readily available.
"With food, it is easier to be conscious about organic, local, etc. But there are so many other aspects of our lives that we forget also need to be environmentally sustainable. Everything that you put on your body including lotions, shampoos, clothing and bedding have an impact on your own health and the overall well-being of the planet. Most students who visited yesterday were inspired to make these changes," Millward said. "And at the end of the day, knowing can make all the difference."