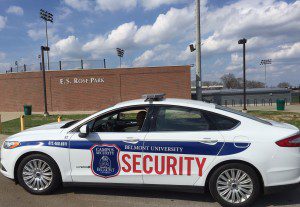 The Office of Campus Security (OCS) is transitioning its fleet of patrol vehicles from Ford Crown Vics to more fuel efficient and economical Ford Fusion Hybrids as part of the department's commitment to Vision 2020. The lower fuel costs, in conjunction with decreased maintenance costs and improved resale value, are expected to result in significant savings and double fuel efficiency.
The newly designed markings, created by OCS in conjunction with University Marketing, feature the new uniform patch displaying the Belmont bell tower and help project a more visible, professional image for the officers.
"We wanted our vehicles to be clearly marked and readily distinguishable as both Belmont University and Campus Security to promote security on campus and to aid in promoting our mission of community policing: being a professional campus security organization  dedicated to providing service, support and response to the Belmont community," said Chief of Campus Security Pat Cunningham.
The mid-sized Ford Fusions are smaller, lighter, more fuel and energy efficient, easier to maneuver and better suited to the campus environment, while still offering comfortable transport when providing escorts or assisting citizens. The Fusions also feature new LED light bars which provide increased visibility, particularly in low lighting and inclement weather, to alert motorists when security is directing traffic around an accident or road hazard.