Belmont's highest achieving students and faculty were honored for their commitment to the University's mission and dedication to scholarship, service and leadership at the institution's Scholarship and Awards Day convocation in the Massey Performing Arts Center on Wednesday. Associate Professor of Economics Dr. Marieta Velikova, the 2015-16 Chaney Distinguished Professor, gave the ceremony's Honors Address and discussed the power of education, likening it to a springtime harvest. Quoting a Chinese proverb, Velikova described the gifts of each of this year's Chaney Award nominees, detailing their unique gifts and the ways they contribute to the Belmont community.
She commented on her responsibility, as a faculty member, to understand the honor that comes with each student who chooses to attend Belmont. As she closed, Velikova urged her colleagues and all students present to be inspired by the "buds of spring. May we be renewed by the sense of hope and optimism, and create a possibility of love, connection and peace on the planet."
The ceremony includes the presentation of the highly anticipated John Williams Heart of Belmont Award, an honor given to one student who demonstrates a deep commitment to Belmont's values including innovation, persistence, advocacy for change, community development and service. This year's recipient, Suzanna Stapler, chose Red Cloud Indian School as her community partner, the organization that will receive a donation in Stapler's honor as part of her award. The school, located in Pine Ridge, South Dakota, serves the student population of the second largest Native American reservation in America. Stapler traveled with 9 other Belmont students and staff last May to volunteer with the community. "Hearing their stories inspired me to value my identity as an athlete and truly appreciate where I am today," Stapler said. "I will always remember the kids' joyful yells and smiles, and I hope to continue finding ways to invest in their lives."
Other students honored in Wednesday's ceremony included:
The Williams-Murray First Year Writing Awards: Alexander Wharton ("Frankenstein: The Incorrect Origin of Man's Fear of Androids") and Alexis Wilkins ("Bottle it Up")
The Alfred Leland Crabb Award: Hailey Hanks ("No One Would Choose to Die") and Rachel Petty ("A Witness to Suffering: A Narratological Analysis of Toni Morrison's The Bluest Eye")
The Alfred Leland Crabb Award for Collaborative Work: Amber Baack, Katelyn Black, Katherine Patterson, Katherine Ward and Mallory Zimmerman ("Through My Eyes: A Refugee Experience")
The Stacy Awalt Writing Award: Christopher Lutz ("Poetry, Sophistry, and Philosophy: Critiquing Poets in the Republic")
The Annette Sisson First Year Writing Award: Megan Rafferty ("Addressing the Gender Gap in Higher Education")
The Lumos Travel Award: Lauren Deklava (Thailand), Sean Grossnickle (Senegal), James Mixon (Kenya & Tanzania) and Karah Waters (Tanzania)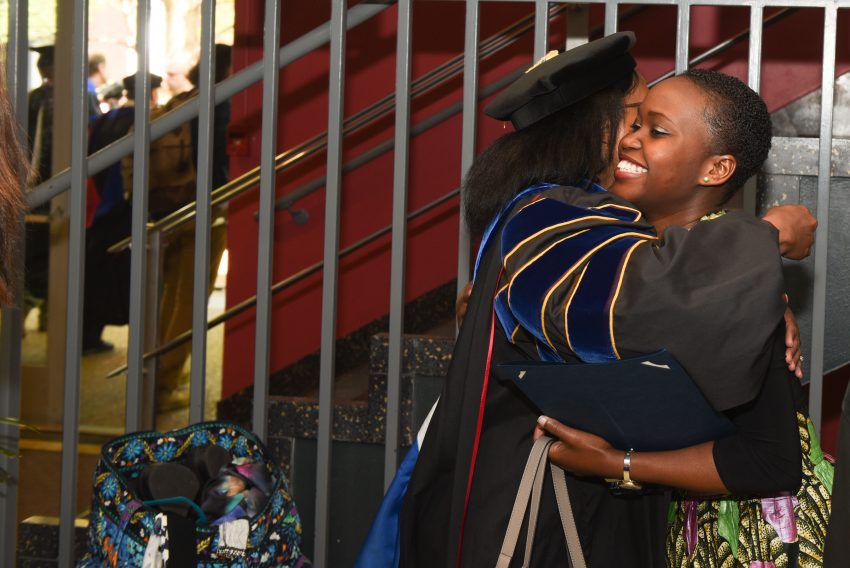 The First Year Award, Leadership and Service: Madison Manns
The Second Year Award, Leadership and Service: Mary Barber
The Third Year Award, Leadership and Service: Joseph LaMartina
The Fourth Year Award, Leadership: Kylee Smith
Dr. Fannie Hewlett Undergraduate Award: Marquis Jiles (commercial music major)
Dr. Fannie Hewlett Graduate Award: Evelyn Kisakye (pharmacy)
In addition to student award winners, a number of awards were given to faculty members. The Christian Scholarship Award honors faculty scholarship that engages the Christian intellectual tradition and advances the scholarly conversation between Christian faith and learning. This year's recipient was Assistant Professor of English Dr. Jayme Yeo.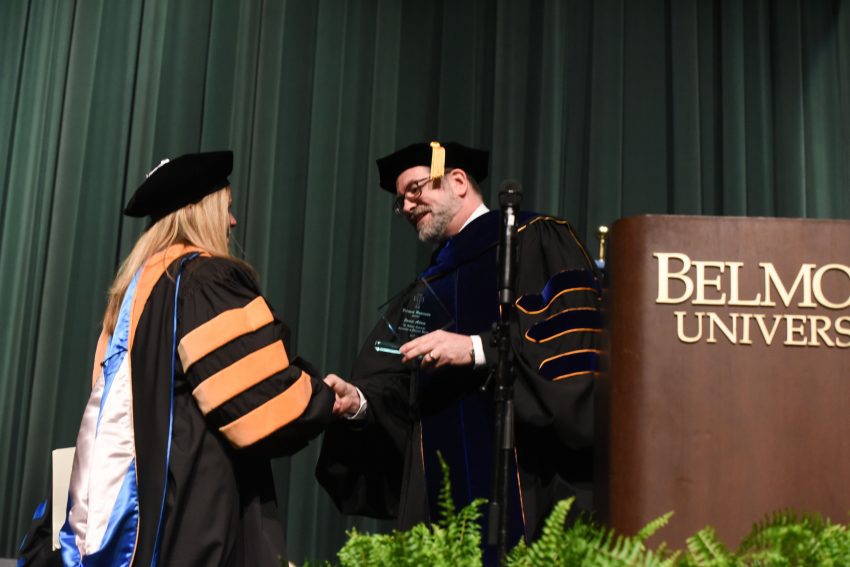 The Leadership in Christian Service Award honors faculty who provide leadership to a new initiative or an established Christian organization that serves those in need. This year's recipient was Dr. Jamie Adam, associate professor of nursing.
The Faculty Award for Scholarship recognizes a faculty member for outstanding intellectual and creative contributions of discovery, integration, application or teaching. This year's recipient was Professor of Physical Therapy Dr. Nancy Darr. 
Dr. Caresse John, English Department, was named the 2015-16 Chaney Distinguished Professor. The Chaney Distinguished Professor Award, determined on the basis of superior teaching, is presented each year to a faculty member who best represents the vision of the university to be a "premier teaching institution."
Dr. Christopher Norton, School of Music, was awarded the 2015-16 Presidential Faculty Achievement Award. The Presidential Faculty Achievement Award is presented each year to a faculty member who has made outstanding contributions to student life outside the classroom. The award honors and recognizes excellence in faculty-student relationships, special abilities in meeting student needs – academic, personal and professional – and symbolizes Belmont University's commitment to being a student-centered institution.