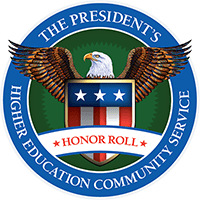 The Corporation for National and Community Service (CNCS) and the U.S. Department of Education have listed Belmont University on the President's Higher Education Community Service Honor Roll for the year 2015. This is Belmont's fifth consecutive year being recognized by one of the highest honors a college or university can receive for its commitment to service-learning and civic engagement. With community initiatives such as the Welcome Week SERVE program, organizing events annually for Family Literacy Day and being a hosting site for Room in the Inn every Wednesday and Friday evening during cold months (Nov.-March), Belmont was recognized in the categories of General Community Service, Economic Opportunity, Education and Interfaith. This is the first year in which Belmont has been honored in each category.
Belmont's Director of Service-Learning Tim Stewart said, "We are very grateful to receive this recognition from the President's Honor Roll for the hard work of Belmont's students, faculty and staff towards our vision of being a leader among teaching universities, bringing together the best of liberal arts and professional education in a Christian community of learning and service. It affirms our commitment to our mission to help our students engage and transform the world with disciplined intelligence, compassion, courage and faith."
Stewart hopes to continue promoting the university's commitment to service by looking for more ways to connect students to service-learning through class initiatives. The Office of Service-Learning is already gearing up for the MLK Joint Day of Service on January 14 by working with other area colleges and universities. The office is also in the middle of its annual poetry contest for elementary school students and will soon be preparing for the 17th annual Family Literacy Day, which is set to be held on April 8.