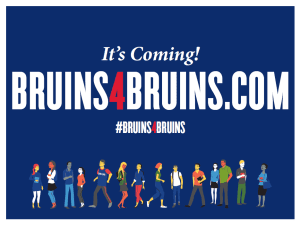 Belmont recently launched Bruins4Bruins, its first philanthropic social media campaign, created to raise $50,000 for the University's Annual Fund in one week, March 8 – 14. Designed to engage with donors in a new and unique way, Bruins4Bruins utilized a variety of digital tools to spark conversation among a group of donors that, for many, were being engaged for the first time.
Focusing on daily e-mails, frequent social media updates, videos from a variety of Belmont community members and digital campaign endorsements, Bruins4Bruins's primary goal was fundraising, but Director of Annual Giving Luisa Wilsman said the campaign was equally focused on philanthropic education for first time donors. "I am delighted that we were able to raise above and beyond the $50,000 goal set for ourselves, but I am even more delighted that we were able to educate so many people on the importance of financially supporting organizations you value and making lasting contributions that will have a real impact on people to come," Wilsman said.
With Monday's most recent tabulation, more than $75,000 was raised in just a week's time, far surpassing the goal of the campaign and the hopes of its leaders. Wilsman said the team knew they'd reach the goal, but were amazed at the reaction of their audience, donors and friends of the University. "The feedback that we received was tremendous," Wilsman said. "Donors were excited to be engaged in a new way and loved hearing stories from members of the Belmont community on how Annual Fund dollars have directly impacted them and the student experience."
Belmont senior and entrepreneurship major Brennon Mobley participated in a Bruins4Bruins e-mail video detailing how money from the Annual Fund goes to offset travel costs for groups like Enactus, a social entrepreneurship organization that supports nonprofits from the greater Nashville community. Enactus travels multiple times a year competing for regional, national and world-wide titles. As a student, Mobley said he donates to Belmont because of the impact the University has had on his life and encouraged other students to join him.
"Belmont has created a ripple effect of blessings in my life. I believe that it is important to support things that you are passionate about, especially when they have made an impact in your life," Mobley said. "Donating to Belmont does not have to be limited to monetary contributions. If you recognize that a teacher, department, or program has made a significant impact on your life, I would encourage you to do something about it. Whether it is through acts of service, writing a letter of gratitude or contributing financially, your initiative will help ensure that future students will be empowered with the same opportunities as you."
While the campaign was designed for alumni, parents and friends of the University, Wilsman said Mobley and other students were quick to jump into the experience, too. "What really moved me is that while we weren't soliciting donations from current students, they decided to join the excitement and support a place they love. In the end, that's what it's all about."
With final donations still being received, the Bruins4bruins team will continue to update dollars raised as they are counted.