Since 1934, Liverpool's Strawberry Field has been operated by The Salvation Army. It was on the grounds that a young John Lennon, before his Beatles fame, often came to play, reflect and escape the post-War streets of Woolton. Those days on the grounds shaped him and would later inspire his work as an adult in the Beatles, including the famous song, "Strawberry Fields Forever."
In July 2022, Belmont Songwriting and Audio Engineering Technology (AET) students joined Linda Jones's Psychology class on a visit to Strawberry Field. The students heard testimonials from current participants in the Steps to Work program at the hub. Director of the Month in London Program Dr. Maggie Monteverde arranged the trip to Strawberry Field with Salvation Army consultant Ginette Goulston-Lincoln.
As the custodians of this precious heritage, the Salvation Army mission at Strawberry Field is now threefold: first, to provide sustainable employment opportunities for young people with learning difficulties. The new hub offers training, skills and work placement to provide real employment prospects. As part of this program, participants and their families are offered support, time to socialize, develop aspirations and help to break down barriers so they can achieve their fullest potential.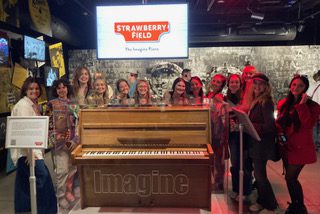 Second: to open the gates to the public for the very first time as a way to provide additional funding to sustain their mission. And third, to provide a Christian Community of spiritual exploration, retreat and pastoral care so that visitors can take time to rest and refresh.
Songwriting and AET students joined hub team member Joe Doogan to sing the song "Imagine" in front of the original gates in the park.
The Practicum in London program primarily involves meeting with music industry executives based in London (this year, publisher manager Melanie Redmond) to receive writing prompts.
Belmont Instructor Drew Ramsey's Songwriting students then create songs and work with AET Lecturer Alan Shacklock's class to generate recordings to pitch back to the executives for feedback. This year for the first time, Dr. David Schreiber's music business students were tasked to handle administration on the student songs and some marketing work.
To further expand this new partnership next year, songwriting students will write original songs inspired by the Salvation Army mission at Strawberry Field and perform them live in the park on their visit.