Belmont's Public Relations Student Society of America (PRSSA) chapter hosted their second regional conference, "NASHvantage: Entertainment PR Beyond the Music Industry," the weekend of March 20-22. The conference brought more than 200 students and young professionals from around the country to network and learn about Nashville's growing public relations field.
The conference was led and directed entirely by Belmont students. Pictured (left) is Director of Logistics Mary Anna Davis, Regional Conference Director Makenzie Albracht, Director of Hospitality Aryn Van Dyke, Director of Promotions and Creative Arielle Schrader and Director of Finance Nicole Smart. Other student volunteers from the Public Relations Department formed the committees and served as extra hands necessary to execute the conference successfully.
"NASHvantage's success directly reflects the passion and dedication of the directors and Belmont PRSSA. We spent six months planning this conference and seeing it come to life was definitely the highlight of my college career," said Davis.
The "NASHvantage" brand played off the advantages of working and living in Nashville, which was a big draw to students around the country.
"We sold out of tickets twice, with the help of social media efforts, and #NASHvantage actually trended in Nashville on Saturday! As the Director of Promotions and Creative, I developed the brand of "NASHvantage" from the ground up. This important role helped me discover my desire to utilize my creative strengths in my future career," said Schrader.
The weekend began with a tour of two local public relations agencies, McNeely, Pigott and Fox and GS&F, where attendees saw what working in a Nashville firm was like first hand. Later that evening, a welcome dinner with local professionals was held, complete with delectable Nashville-based desserts like Goo Goo Clusters and Nothing Bundt Cakes. Despite the snacks, most attendees would agree that the photo booth set the tone for the weekend.
The directors' goal was to give attendees the ultimate Nashville experience. "This city is hot right now. We had so many people coming to the hospitality table asking about the best local places to eat, shop and spend the night out," said Van Dyke.
Saturday was packed with breakout sessions to help the attendees learn from professionals, find their passions and apply their skills to a future career. The presenters included keynote speaker Riggs Partners' Public Relations Director Kelly J. Davis, APR, Director of Marketing at Goo Goo Cluster Beth Sachan, Corporate Communications Coordinator for The Nashville Predators Alexis Witman, Communications Manager at the Ryman Auditorium Lisaann Dupont and Marketing & Strategic Partnerships Assistant at the Country Music Association Cody Lynch, among others. 
Amidst the business card exchanges and resume competition, attendees dined at Bao Down, Electric Sliders and Bacon Nation food trucks for lunch. For dinner, each director hosted a gathering at popular restaurants around town, including Martin's Barbeque, McDougal's and San Antonio Taco Company.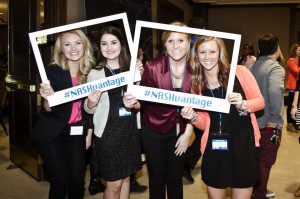 "This was something unique to our conference that I haven't seen at any others I have been to. It's all about community here, and that was apparent throughout the event. Many of the dinners extended longer into Saturday night, which was a cool way for us to give the attendees great food and quality relationship building time," said Smart.
Sunday morning concluded the conference with an award ceremony and farewell breakfast at Ruby, an event venue just minutes from Belmont's campus. Each PRSSA chapter was recognized, as well as a few stand out students and advisors, like Belmont's own Chapter Advisor Dr. Bonnie Riechert and student Alex Murphy, who won "NASHvantage Biggest Fan."
"There were so many moving parts in the planning process and it was incredible to see our months of planning pay off over the weekend. With 201 students from 28 universities in attendance, we conference directors are experiencing a whole new kind of proud," said Albracht.
Several local hotspots sponsored the event, including Belmont's Department of Public Relations, PRSA Nashville, McNeely, Piggot & Fox, DVL Seigenthaler, Nashville Convention and Visitors Center and Edgehill Cafe, among others.  
To learn more about the conference, click here.