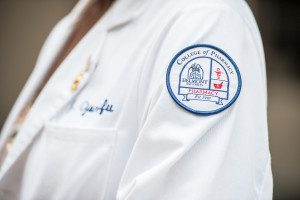 Twenty-four graduates and soon-to-be graduates of Belmont University's College of Pharmacy have been selected for pharmacy residency programs following the annual match process conducted for the American Society of Health-Systems Pharmacists (ASHP). About 4000 residencies are being offered in 2015 through the ASHP Match, a competitive application process.
Belmont placed 90 percent of applicants in first-year residencies, compared to an overall placement rate of 65 percent.  For second-year residencies, Belmont placed 75 percent compared to an overall placement of 70 percent.  First-year pharmacy residencies provide post-PharmD training in health systems, managed care oand community settings, while second-year residencies provide advanced training in a focused area of patient care.
Graduates selected for first-year residencies include Samantha Wheeler (Baptist Medical Center South in Jacksonville, Florida), Mary Martin Johnson (Birmingham VA Medical Center in Birmingham, Alabama), Jessica Yost (Charleston Area Medical Center in Charleston, West Virginia), Denise Ann Bentley (Cookeville Regional Medical Center in Cookeville, Tennessee), Noah Ploegman (Creighton University Medical Center in Omaha, Nebraska), Nicholeah Jade Lay (Fort Sanders Regional Medical Center in Knoxville, Tennessee), Lindsey Bruce Thomas (Mission Hospitals in Asheville, North Carolina), Maggie Montgomery (New York Harbor Healthcare Systems in New York, New York), Jessica Brinkley (Saint Thomas West Hospital in Nashville, Tennessee), Sara Rower (St. Luke's Hospital in St. Louis, Missouri), Margaret Morgan Goodman (St. Thomas Rutherford Hospital in Murfreesboro, Tennessee), Meghan Quillen Duquette at (VA North Texas Health Care in Dallas, Texas), Patrick David For (Vanderbilt University Hospital in Nashville, Tennessee), Vanessa Kirkwood (Richard L. Roudebush VA Medical Center in Indianapolis, Indiana), Jocelyn Grace Mason (Providence Health and Services in Providence, Oregon) and Emily Paige Doss and Nilamben Mahesh Patel (VA Tennessee Valley Healthcare System in Nashville, Tennessee).
Belmont PharmD graduates accepted for second-year residencies include Kelly Lynn Maguigan (Critical Care residency at Vanderbilt University Medical Center in Nashville, Tennessee), Shannon McVeigh (Geriatric residency at Central Arkansas Veterans Health Care System in Little Rock, Arkansas), Kendall Shultes (Oncology residency at Barnes-Jewish Hospital in St. Louis, Missouri), Erika Wass (Oncology residency at Loma Linda University in Loma Linda, California) and Emily Brinser and Kenneth Carver (Health System Pharmacy Administration residencies at HCA/University of Tennessee College of Pharmacy in Nashville, Tennessee).
In addition, Traci Okoli, a fourth-year PharmD student, was granted a research fellowship by the U.S. Department of Veterans Affairs at their Clinical Research Pharmacy Coordinating Center in Albuquerque, New Mexico.