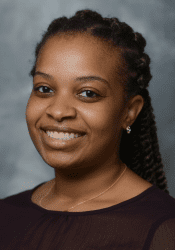 Dr. Chelsa Deanes, second year Drug Information Fellow in Belmont's College of Pharmacy, has accepted an offer to work for Evidera as a writer within the medical information division.
Deanes began her fellowship program with Belmont University College of Pharmacy in conjunction with Aegis Sciences Corporation in the summer of 2020 after her graduation from University of Tennessee Health and Sciences Center College of Pharmacy. She has spent time as part of Belmont's faculty within the College of Pharmacy and as a drug information pharmacist within the Christy Houston Foundation Drug Information Center and Aegis.
During her fellowship, she presented a poster at a national conference, developed and presented a continuing education session for pharmacists, published an update for the Pharmacotherapy Principles & Practice textbook, and is currently working on a manuscript to be submitted for publication.
Directors of the fellowship program Genevieve Lynn (Ness) Engle, PharmD, and Andrew Holt, PharmD, continue to set the fellows up for success by ensuring 100 percent post-fellowship job placements.