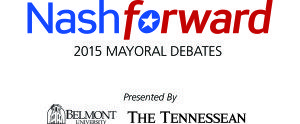 The Tennessean and Belmont University have come together to present Nashforward, the premier Nashville Mayoral Debate Series in 2015.
As the leading media company and a top-ranked University, The Tennessean and Belmont University want to ensure that voters are well-informed on the issues facing Nashville and the positions of each candidate as they head to the polls in August.
Each debate will be free and open to the public, but tickets must be reserved in advance. The debates will also be streamed live via The Tennessean and Belmont University's digital platforms.
Belmont President Dr. Bob Fisher said, "We have long said that being in Nashville is one of Belmont University's finest assets, and this institution is committed to returning that benefit through engagement with, and service to, our city. Hosting these debates also connects well with our mission to provide students with significant real-world educational experiences, demonstrating first-hand how they can be change agents in our community and the broader world."
The Tennessean's President and Publisher Laura Hollingsworth said, "Nashvillians can count on The Tennessean to cover the details and the in-depth stories about the election, the candidates and their stances on the issues leading into the election."
The first debate will be conducted in a traditional format on Thursday, May 21 at 7 p.m. in the Massey Performing Arts Center at Belmont University. Harry Chapman of Belmont University will serve as host with The Tennessean's engagement editor, David Plazas, serving as moderator. Immediately following the debate, there will be an opportunity for media interviews. Tickets will be available on or around April 1 via Belmont University's website.
The second debate will be held on Thursday, June 18 at 7 p.m. in the McAfee Concert Hall at Belmont University. The format of the debate will be a town hall. Chapman and Plazas will once again serve as host and moderator. This debate will have a focus on millennials and how, as Mayor, the candidates would lead with this growing demographic in mind.
Leading up to the second debate, Belmont University students in the political science and journalism departments will be paired with candidates to discuss and learn from one another. These discussions will help generate the questions and answers for the debate on June 18. Tickets will be available on or around May 1 via Belmont University's website.
Seven candidates have agreed to participate in the debates: Megan Barry, Charles Robert Bone, Linda Eskind Rebrovick, David Fox, Bill Freeman, Howard Gentry and Jeremy Kane. All have invested serious time and money into the election. Others may be added prior to the debates.
Click here to learn more.