Belmont University today opened Mesa Komal Café in partnership with Sodexo and Conexión Américas, a Nashville-based nonprofit organization on a mission to build a welcoming community and create opportunities where Latino families can belong, contribute and succeed. The first dining outlet of its kind, the restaurant will house local, minority entrepreneurs from the Conexión Américas Mesa Komal culinary incubator program on rotation as they gain experience operating their culinary ventures. 
Belmont Assistant Professor of Entrepreneurship and Management Dr. Jose Gonzalez said the café blends the opportunity for entrepreneurs to expand, grow, learn and experiment with new ideas with another dream to strengthen Belmont and Sodexo's connections with the broader community in a real and tangible way.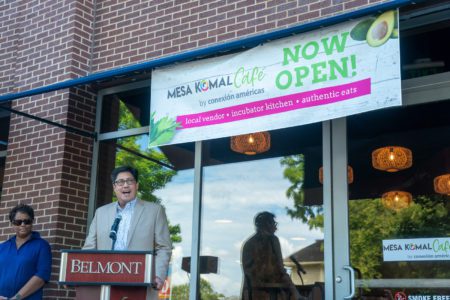 "Mesa Komal Café will be an outlet to amplify the vibrancy of the culinary scene of the immigrant and the refugee communities. I can't wait for my Belmont family to experience the vision of Mesa Komal as these amazing chefs bring that vision to life," said Gonzalez. "Over time we will see different types of food in the restaurant, representing the talent and the diversity of food entrepreneurs who have made Nashville home from all over the world."
Entrepreneur Karla Ruiz and her team will be the first business to utilize the space with Viva la Vida, a restaurant serving various tacos, salads, chips, dips and desserts. Entrepreneurs will also feature items from other Mesa Komal partners during their rotations.
Co-Executive Director of Conexión Américas Martha Silva said opening the café has been a longtime vision of Conexión Américas. "So many Latino immigrants and entrepreneurs will be exposed to the experience of what it is to have their own restaurant. They can build skills and income for their next steps and dream big," she said. "People like Karla are remarkable examples of what talent, hard work and persistence can achieve."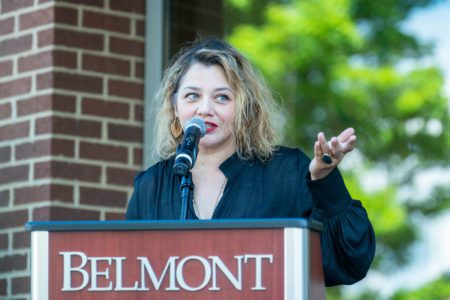 Ruiz expressed how thankful she is for the team supporting her and her business. "I think about my small business getting to work with big organizations like Belmont and Sodexo and think of them as my wings – they help cover me and help me to grow," she said. "I am so thankful for them to open their doors to these small businesses so we can grow and provide for our families and our communities. I love people and I love to cook – that's my way to show love. I have no other choice but to be successful so I can pave the way for the next vendor, and the next and the next and the next."
Dr. Susan West, executive vice president for administration & chief of staff at Belmont, opened the ribbon cutting ceremony by explaining that this partnership is an opportunity for those in the Belmont community to be catalysts for helping their neighbors thrive. "I am thrilled that many minority-owned businesses will become a part of our campus and that our students, staff and faculty will be able to directly support them, get to know them, and watch them grow and succeed, all while enjoying their delicious food," she said. "We want these entrepreneurs to feel they belong here on this campus, and I know they will feel that warm Belmont welcome from all who patronize their businesses."
The Café is officially open for business Sunday – Friday from 11 a.m. – 8 p.m.