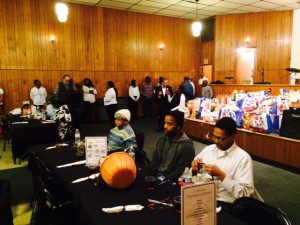 Belmont partnered with Watson Grove Missionary Baptist Church (WGMBC) and 760AM The Gospel for WGMBC's annual Edgehill ThanksLiving Fellowship Meal, a Thanksgiving celebration that serves the Edgehill community with a side of unapologetic dignity, as well as a hearty meal.
The event created an upscale atmosphere to provide guests with a high-quality dining experience. Servers were dressed in professional waiter attire and host pastors and their wives came in formal evening wear. A live jazz band contributed to the upscale experience and elaborate décor emulated a fine dining atmosphere. All guests left the lunch with a gift bag that contained personal hygiene items, food and winter clothing from area sponsors. In addition to the University helping to host and financially support the event, several students and faculty also volunteered their time to make the event possible.
With more than 200 community members in attendance throughout the day, the event was the largest in the three years since its conception.
"The church has a responsibility to reach out to the community. It is in our DNA to bless the Edgehill Community. We must embrace the reality of sameness; we are all more alike than we are different," said WGMBC Senior Pastor John Faison.