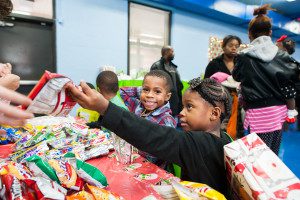 Belmont partnered with MDHA, Regions Bank and Aegis Group to host the Edgehill Apartments Christmas event, an afternoon filled  with presents for resident children, a goodie basket with holiday snacks, a family photo with Santa and a ham dinner, complete with all the trimmings.
More than 85 children from 45 families were represented at the event, hosted on Friday, Dec. 20, at the complex's Community Room. In addition to sponsoring the event through a financial contribution, Belmont's University Staff Advisory Council volunteered at the event and served as the elves who passed out snacks and presents to the children.
Edgehill Apartments' Assistant Property Manager Thomas Corritore said that when his initial plan to fund the Christmas event fell through, he thought he was stuck. That's when Belmont and Regions came together to provide the funds for the 4th annual event. "We do it for the kids," he said.
Belmont Director of Community Relations Joyce Searcy would agree. "Belmont is blessed to be able to tutor many of these children, provide books for the Read With Me Day and interact on many levels. It was a no-brainer for us to stand in the gap for our neighbors so these children could wake up on Christmas with gifts under their trees," she said.