Belmont University, in partnership with eight other teacher prep programs across the city, recently formed a coalition focused on the broken teacher pipeline, specifically related to a lack of diversity in Nashville's teacher workforce. The Trailblazer Coalition completed a year of research and self-analysis on the pipeline, shared its findings and recently held a community discussion to brainstorm ways partners across the city can fix the broken pipeline.
The group met monthly during the 2016-17 school year, conducted research on causes of disparity between teacher and student diversity and worked to find ways to improve the diversity of Nashville's educator preparation programs and teaching ranks.
Citing misperceptions of teaching, the financial burden of college and licensure and a lack of specific mentoring and retention strategies, among others, the Coalition's research highlights multiple barriers for people of color to become teachers in Nashville. The disparity in teacher and student diversity is a nationwide issue reflected across Tennessee and in Nashville's schools. A report last year by the Metro Human Relations Commission pointed out that over 68 percent of Nashville's students identify as African American, Hispanic or Asian, while less than 26 percent of Nashville's teachers do.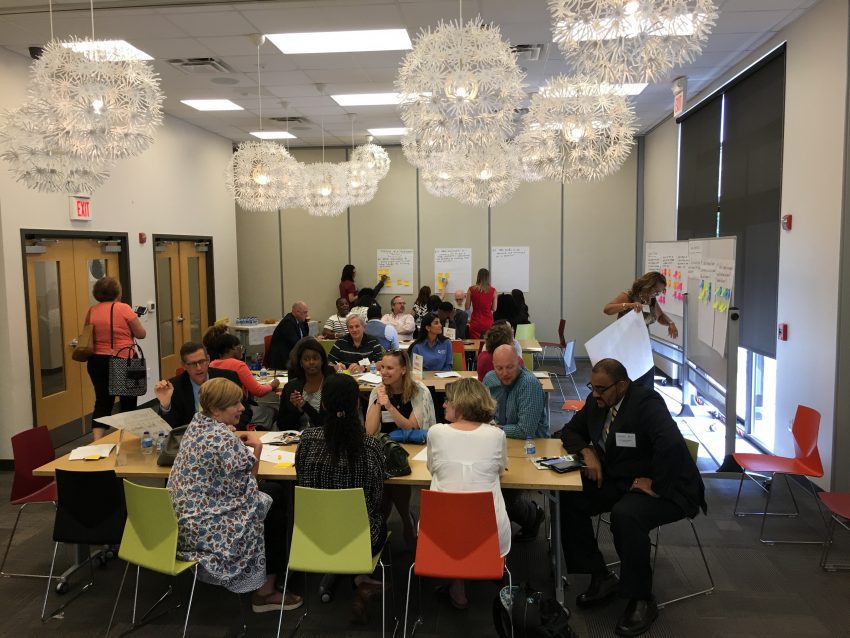 "Working to improve the diversity of the teaching force in Metro Nashville Public School takes all of us," Assistant Professor and Director of Innovative Projects in Education and Coalition Steering Committee Dr. Alan Coverstone said. "The most exciting thing about the Trailblazer Coalition is that it brings together all the Educator Preparation Programs serving Davidson County schools to learn about and work to address the challenges that our teachers of color face in entering and remaining in the profession. We are all learning from each other and beginning to develop new strategies together  to support teacher candidates as they prepare for and begin their careers."
Based on its research, locally and a comprehensive review of national research on teacher diversity, the Trailblazer Coalition identified five main areas of need in its report:
Promoting teaching as a transformative practice
Promoting an anti-oppressive culture in teacher preparation programs
Support for teacher retention and success
Support for licensure and testing
Financial support for underrepresented students
Over the next year, the Coalition will work to partner with local and state government leaders and area nonprofits to implement systemic changes to impact these areas.
"It is inspiring to see the teacher prep community in Nashville come together to help our school system tackle this issue," Nashville Mayor Megan Barry said. "Often in Nashville you see government leaders convening and calling on institutions and organizations to collaborate and help solve public sector problems. In this case, it's the teacher prep programs stepping up to say 'we all have to own this to make a difference.' Their findings align with the work my office has been doing to make affordable housing more accessible to Nashville teachers. I look forward to expanding and accelerating this work with more partners at the table."
The Trailblazer Coalition's full report, titled "Fixing the Broken Pipeline: Teacher Diversity and the Classroom," is available here.
Alongside Coverstone, Belmont is represented by Dr. Mark Hogan, professor and chair of the Education Department, and Dr. Mona Ivey-Soto on the Coalition.
Images provided by Trailblazer Coalition.