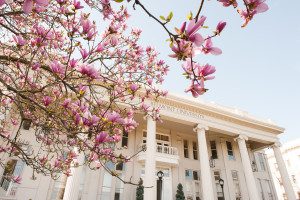 Kiplinger's Personal Finance has included Belmont University on its list of the country's 2015 Best Value Colleges in private universities. The University was included on the same list in Kiplinger's 2014 rankings. The complete rankings, including the best values in public schools, private universities, private liberal arts colleges and the top overall, will appear in Kiplinger's February 2015 issue. The full list is available online now at www.kiplinger.com/links/college.
Belmont and the other schools included in the 2015 lists represent the colleges that provide high-quality academics at a reasonable cost. The colleges exemplify the attributes parents and students look for in higher education, including small class sizes, a good freshman retention rate and a high four-year graduation rate.
"We salute this year's top schools," says Janet Bodnar, editor of Kiplinger's Personal Finance magazine. "Balancing top-quality education with affordable cost is a challenge for families in today's economy, which is why Kiplinger's rankings are such a valuable resource. The schools on the 2015 list offer students the best of both worlds."
Kiplinger's rankings measure academic quality and affordability. Academic criteria include the student admission rate (the number of students accepted out of those who apply), the test scores of incoming freshmen, the ratio of students to faculty members, and the four-year graduation rates. On the cost side, Kiplinger's measures the sticker price, the availability and average amount of need-based and merit-based financial aid, and the average student debt at graduation
About Kiplinger
For nine decades, the Kiplinger organization has led the way in personal finance and business forecasting. Founded in 1920 by W.M. Kiplinger, the company developed one of the nation's first successful newsletters in modern times. The Kiplinger Letter, launched in 1923, remains the longest continuously published newsletter in the United States. In 1947, Kiplinger created the nation's first personal finance magazine. Kiplinger.com is the fastest growing Web site in the personal finance space. Located in the heart of our nation's capital, the Kiplinger editors remain dedicated to delivering sound, unbiased advice for your family and your business in clear, concise language. Become a fan of Kiplinger on Facebook or Kiplinger.com and follow Kiplinger on Tumblr and Twitter.