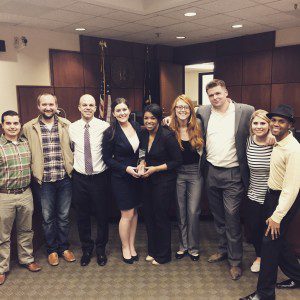 Belmont University College of Law's Mock Trial teams recently competed in Louisville, Kentucky at the regional tournament for the American Association for Justice (AAJ).
The winning team, comprised of Ardath Griffin, Rachel Hogan, Ron Laffitte and A.C. Agee, were the No. 1 seed going into the elimination round and won the regional championship. This team will go on to the national tournament in Pittsburgh, Pennsylvania in April to represent Belmont College of Law.
This is the second year in a row that Belmont has had an undefeated team at the tournament. When evaluated by individual judges, Belmont now has a two year combined record of 47-4.
A second team, comprised of Nelson Suarez, Tim Wills, and Miles Brooks (with special witness Courtney Lutz), ranked fifth after the preliminary rounds, narrowly missing the quarterfinals by one point from a singular judge.
College of Law Associate Professor and Faculty Advisor Amy Moore said, "I am so proud of our students! They have put in countless hours of practice and have dominated at the regional tournament. We are very excited to participate in another national level competition."