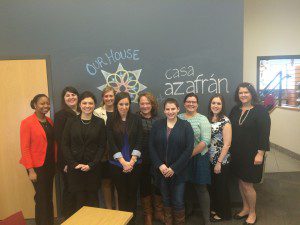 Belmont's Legal Aid Society hosted a week-long Deferred Action for Childhood Arrivals (DACA) Clinic with Tennessee Justice for Our Neighbors (TN JFON) as an alternative to spring break March 9-13. The students worked Monday through Friday, and performed around 350 pro bono hours. Bethany Jackson, an attorney with TN JFON was the supervising attorney and assisted the students throughout the process. 
Hannah McCann, Kaile Pippin, Jamie Sawyer, Shelby Dodson, Tammy Mezera, Breanna Pendilton, Hannah Zeitlin, Stephanie Fisher, Sarah Yandell, Brittany Dinaso, Christy Zepeda and Sara Page made up the group of law students who were able to see 21 clients and assist them in filing new Initial DACA applications or DACA renewals.
DACA status allows young immigrants to receive a social security number, a work permit and a two-year protection against removal proceedings, as long as they show continual residence within the U.S. since 2007. This allows the recipients to apply for a driver's license, attend college and qualify for employment opportunities that may have been impossible before receiving DACA.