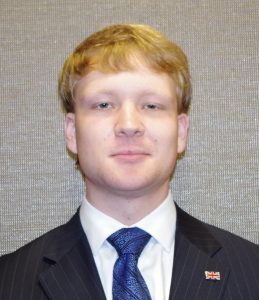 Dale Evans, current second year student in Belmont University's College of Law, was recently named as the only student selected for a Janet D. Steiger Fellowship in the Tennessee Attorney General's office for Summer 2017. The 8-10 week fellowships were initiated in 2004 by the ABA Section of Antitrust Law to introduce law students to the rewards of legal careers in consumer protection, and Evans will serve in the office of the Tennessee Attorney General.
"The Steiger Fellowship Program provides an extraordinary opportunity that our Office is proud to support," said Tennessee Attorney General Herbert H. Slatery III. "Accomplished law students experience firsthand the merits of working for a great state like Tennessee, while at the same time providing our Office with meaningful assistance on consumer protection cases. We appreciate our partnership with Belmont University and the high quality of students representing its College of Law."
The Janet D. Steiger Fellowship Project provides law students the extraordinary opportunity to work in the consumer protection departments of state and territorial Offices of Attorneys General throughout the United States. Evans is currently working in the Consumer Advocate and Protection Division of the Tennessee Attorney General's office.
A native of Gloucester, United Kingdom, Evans graduated from Lipscomb University in 2014 with a major in Law, Justice and Society. In addition to his spring field placement in the Tennessee Attorney General's office, Evans also serves as the Mock Trial Division Captain for the Belmont Law Board of Advocates and as the Scoutmaster for Boy Scout Association Troop 131.
Evans said, "I see consumer protection law as a way to fight injustice in a lesser known but equally important field. While assistant district attorneys prosecuting criminals often take center stage, those lawyers who bring cases against companies who defraud their customers help to keep the marketplace safe and dependable for the general public. Courses at Belmont have given me the tools necessary to confidently engage this technical and complex field of law.  Knowledge of the Rules of Evidence and Civil Procedure is essential, and through rigorous instruction, Belmont's professors have prepared me to use these rules to help protect the citizens of Tennessee."
Belmont Law Dean Judge Alberto Gonzales added, "I was pleased to learn that Dale Evans, one of our second year law students, has been recently recognized as a Steiger Fellow with the Tennessee Attorney General's office. This selection brings honor to Dale and to the Belmont University College of Law. "
Each of the highly motivated Steiger Fellows provides tangible, meaningful assistance to states and territories that are in substantial need of additional resources to fulfill their consumer protection mission. Offices that have hosted Steiger Fellows in the past have characterized the Fellows' work as exemplary and have often described the students as some of the most talented interns the offices have ever attracted.
The Council of the Section approved funding for states to participate in the 2017 Steiger Fellowship Project. Each selected student will receive a $6,000 stipend (subject to certain federal taxes and administered through the offices of the state). This Project continues to be a tribute to the memory of the late Janet D. Steiger, one of America's great public servants who, during her remarkable tenure as FTC Chairman, dramatically improved cooperation, communication and coordination between state and federal consumer protection and antitrust enforcement agencies.
About the College of Law
Belmont University's College of Law provides a natural extension of the university's mission and vision that emphasizes challenging academics, a service-minded approach, real-world experience and community leadership. The College is integrated into Belmont's main campus and offers specialties in areas that complement the university's nationally-known undergraduate programs including healthcare and entertainment and music business. Belmont law graduates will be practice-ready attorneys, empowered by their education and co-curricular experiences to provide legal counsel in a variety of settings with commitment to high standards of expertise and ethics.