Office begins the year with BOLD Moves Student Leadership Training
Aptly named BOLD, the newly-created Belmont University Office of Leadership Development officially launched last week with its first student leadership programming — the BOLD Moves Leadership Challenge. The experience, which began when students arrived to campus last week, exists to provide a comprehensive student leadership development experience that encourages participants to clarify their individual and group values and align those values with their actions. Through this experience, students began to understand and model what leadership looks like at Belmont — through the lens of service.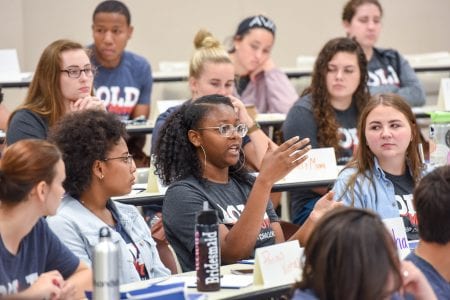 The first few days of their time on campus was spent in the classroom as 17 staff and faculty from 10 offices across campus facilitated interactive learning sessions with participants. Covering the basics of leadership, behaviors effective leaders portray, the importance of forming well-developed group values and more, these sessions allowed participants the opportunity to understand their own leadership style before putting it into action.
But it wasn't all business. After their training, the BOLD Moves crew, which included 65 students in total, took to the city to experience some of what Nashville has to offer. After spending the morning on Friday at Top Golf, the group headed downtown for a round of laser tag before coming back to campus to prep for their busy weekend. Demonstrating the true meaning of service, the students completed their BOLD experience by assisting Residence Life with moving 2,200 upperclassmen and 900 freshmen into their dorms across campus. Now that the week is over, participants can continue in BOLD's ongoing leadership development experience, Bruin Lead.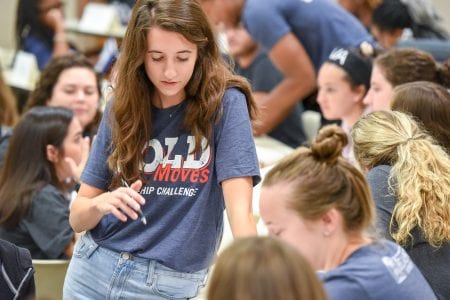 Assistant Dean and Director of Leadership Development Dr. Adrianne Archie said the program was created directly from a student desire for expanded leadership development opportunities across campus. "Service is the Belmont way," Archie said. "What better way to get students plugged into leadership development from the very beginning of the semester than to collectively serve 1,700 hours by assisting upperclassmen in move-in, an activity that demonstrates a true leader's ability to model the way."
BOLD Moves participant Nicole Pesce said the opportunity to start the year with this experience was incredibly meaningful as she further developed her leadership skills and her faith. "BOLD created an environment that was 100% engaging," she said. "It has helped me grow in my faith in Jesus Christ and allowed me to see students begin as strangers and become a transformed body of friends and leaders with servant's hearts. Everyone has a place and a purpose in BOLD."
Though student leadership opportunities have always been available across campus through a variety of programming, BOLD captures all leadership training that Belmont provides and houses it in a central location. Additionally, it allows students to engage with intentional leadership development programming all throughout their college career. And it's not just reserved for those who hold a traditional leadership position.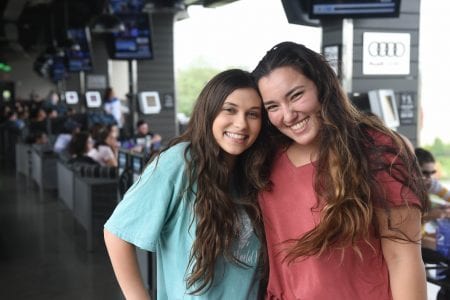 In fact, BOLD Moves was created and reserved for students who don't hold leadership positions across campus but were interested in getting involved. "Leadership development is everyone's business," Archie said. "BOLD Moves set the tone for all students to understand that everyone can learn and practice leadership — it's not reserved for those with a certain title. All our students can be better in BOLD!"
For Archie, the opportunity for students to experience real, authentic leadership opportunities while in college is what prepares them for life after graduation. "These experiences are transformative," she said. "In so many ways. I look forward to seeing students changed by the process as they understand that they, too, are leaders. I look forward to watching God transform each participant for his purposes on our campus and in our community. This is only the beginning — the BOLD beginning."