A host of medical practitioners and educators from across the country recently gathered at Belmont for the Thomas F. Frist, Jr. College of Medicine Roundtable on Ethics, Virtue and Character Formation.
The group convened to develop core, co- and extra-curricular training resources, which aim to prepare medical students from diverse backgrounds for virtuous and ethical practice for the whole person in a complex world. About 10 guests from Boston to the West Coast joined 15 additional Belmont faculty in Nashville.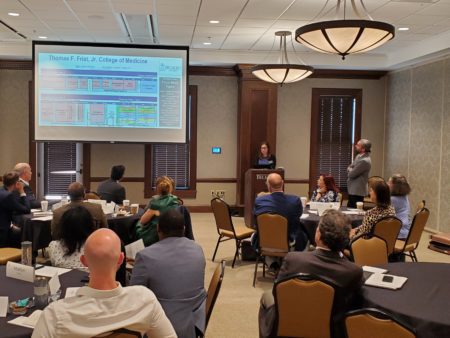 The two-day session opened with a welcome inspired by Wendell Berry's poem "Manifesto: the Mad Farmer Liberation Front" and Berry's metaphor for "planting sequoias." The poem considers his frustrations with the 20th century American agriculture system, which organizers related to the challenges in medicine today.
The theme continued with seeds, soil, cultivation and growth as lenses through which to consider ethics and character in curriculum.
Leaders at Belmont and within the Thomas F. Frist, Jr. College of Medicine are working toward the unique opportunity to raise up whole-person healthcare providers for diverse communities in a complex world.
Guests also were invited to an optional tour at Siloam Health, a longtime nonprofit clinical partner with Belmont's health professions schools.