Belmont hosted Legacy Maker's "The Power of WE," a women entrepreneurs luncheon, on March 2 and welcomed Sherry Deutschmann, founder and CEO of LetterLogic, to deliver the event's keynote address. Focused on investing in their people, LetterLogic has become one of the most successful companies in their industry and has been on the Inc. 5000 list of fastest-growing private companies for the past nine years.
With more than 100 people in attendance, Nashville Airport Authority President and CEO Rob Wigington offered greetings by describing the power of women in business and entrepreneurship, as well as what NAA is doing to embrace and celebrate diversity.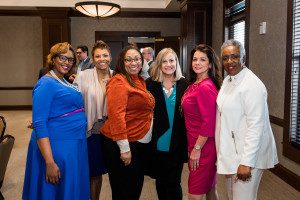 Nashville Mayor Megan Barry spoke about the progress Nashville has made in the business sector as it was recently named the No. 1 city in the U.S. for women entrepreneurs to live and be successful. Barry thanked attendees for their work in furthering the success of women in business in the Nashville area and for "being the faces of what little girls can be."
Barry introduced Deutschmann who told the story of how she relocated to Nashville many years ago with her young daughter, beat-up Volkswagon Beetle, no job, dreams of a music career and less than $200 once her first rent check cleared. After a number of positions in sales, Deutschmann found herself in the printing business where she noticed a number of problems and decided to start her own company. "So I wrote a business plan," Deutschmann said. "Turns out I had never even read one."
With two filing cabinets, purchased from Goodwill, and an old door on top to form her first desk, Deutschmann launched LetterLogic in her home basement and went to work. Years later, she is the proud founder and CEO of an almost $40 million company that employs more than 50 people with an "unorthodox business philosophy" that puts the employee first–even before the customer.
LetterLogic, with Deutschmann at the helm, now has a new mission. "We prove to the world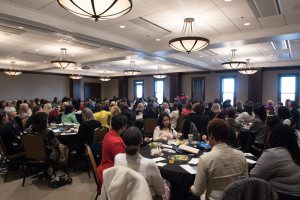 that you can take really good care of your employees and still have a really good bottom line," Deutschmann said. For her team, this means free healthcare coverage, a percentage of net profits bimonthly, the freedom to bring children and pets to work and assistance in buying their first home.
Though she admits it sounds extreme, Deutschmann said she and her team believe the model can be replicated in other industries and will lead to success. She also believes it's up to women to further these ideas. "It is our responsibility [as women] to lead the way in creating companies that are employee-centric," Deutschmann said. "The only thing holding you back is you. Get out of your own way."