Belmont's Curb Event Center was humming with fans on Wednesday, Feb. 10 as the university's Office of Community Relations hosted its 8th annual Community Day and welcomed 680 community members to campus for a complimentary dinner and men's basketball game against OVC competitor Jacksonville State. This year's event was sponsored by Google.
As a showing of gratitude to surrounding neighbors, the annual event featured a balloon artist, face painter, photo booth, dance competition and more. In honor of Belmont's 125th anniversary, dinner featured a birthday cake for the university and Eakin Elementary won a $500 birthday prize for bringing the most attendees to the game–160. Rose Park Elementary brought 100 attendees and Kipp Nashville was the third largest with 81 attendees. All three schools received a Chromecast from Google in recognition of their participation.
Nashville's Mayor Megan Barry attended the event and presented the officials with the game ball prior to the men's basketball game. The women's team, who played before the men and won against Jacksonville State with a final score of 56-42, presented the mayor with a signed basketball.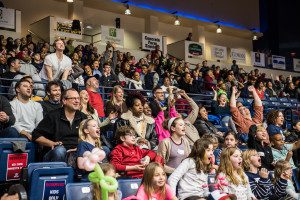 Keeping in line with the night's festivities, the Bruins (18-8, 10-2 OVC) were happy to bring home a win against the Jacksonville State Gamecocks (8-19, 4-8 OVC). With a final score of 81 to 73, Community Day attendees kept energy high in the arena and cheered the Bruins to another OVC victory.
Director of Community Relations Joyce Searcy said she is delighted to hold this event each year as the university provides an evening of fun for its neighbors. "As 'Nashville's University,' Belmont is committed to the people who live in our community. This event is just one way of saying thank you to those who call Nashville home."
Will Humphrey, event attendee and parent of Eakin Elementary students, said his family was very excited to attend the basketball game for a number of reasons. Haley Frye, Belmont alumna and past Belmont basketball player, teaches Humphrey's child's kindergarten class and encouraged the students and their families to attend the event. As Humphrey said, "Anything she asks us to do, we do. We're all huge fans–and free food doesn't hurt!"
A highlight and signature event on Belmont's campus, Searcy said many people continue to look forward to attending–and planning–such a fun event every year. "Community Day is for everyone," Searcy said. "The team enjoys planning, Belmont students enjoy running operations the night of and we continue to hear from community members that this event is one they are sure to attend. Each year gets bigger–more hot dogs, more balloon animals, more hugs from Bruiser, more guests coming through those doors–and Belmont is honored to serve as the host. Now that this year is over, it's time to start thinking about next year!"