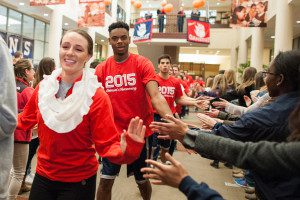 Saturday's young alumni social wrapped up last week's 2015 Homecoming Events for Belmont University as the Belmont family celebrated another successful year for Bruins everywhere.
With a focus on "coming home," the week's festivities included a homecoming concert featuring prominent Belmont alumni and friends, a pep rally and bonfire, a spirit walk and tower tailgate, an alumni social with special guest William Paul Young, a "Back to Blvd" celebration at Belmont Blvd. restaurants, a double header featuring both the men's and women's basketball teams and a canned food drive benefiting Nashville's Second Harvest Food Bank, among others. The university's annual Homecoming celebration includes a reunion for Tower Society members, Belmont alumni who graduated more than 50 years ago.
With a focus on celebrating's Belmont desire to be "Nashville's University," the canned food drive was a staple part of this year's Homecoming events. Faculty, staff, students and alumni were challenged to donate 1,000 canned food items to the local organization. The drive ran throughout the month of February and culminated at Saturday's events. With more than 2,400 canned food items totaling more than 2,800 lbs., the Belmont family far exceeded its initial goal.
Associate Director of Alumni Relations Julie Thomas said the campus includes a community service aspect into Homecoming each year, and with this year's success, she is excited to include the drive in the coming years. "At Belmont, we are committed to serving the community around us and incorporating that service into everything that we do, including Homecoming," Thomas said. "Service is a part of who we are – it's what we do. Including this in our Homecoming Week is a clear choice for us!"
The men's and women's basketball teams played Tennessee State University's Tigers during Saturday's double header. The men's basketball team won with a final score of 71-53. The game included this year's Homecoming Court, as well as a shot for tuition, Pizza Perfect shooting competition, a number of awards and a special video from Nashville's Charles Esten to kick-off Bruins4Bruins, the University's first philanthropic social media campaign. The women were unable to defeat the crosstown rivals during the first game of the day, with a final score of 70-53.
Immediately following the game, young alumni were invited to the annual Young Alumni Social, held at Soulshine Pizza Factory. With more than 150 people in attendance and recent American Idol contestant Piper Jones providing the evening's entertainment, Director of Young Alumni Programming Adam York said the alumni office was impressed with this year's participation. "From Young Alumni Council members hosting alumni guests at our new Back to the Boulevard event at neighboring restaurants to the packed out Young Alumni Social after the men's basketball game, it was exciting to see so many of our young alumni back on campus to celebrate their alma mater."
For more information on the Office of Alumni Relations, click here.