To celebrate the University's 125th anniversary, Belmont hosted a Blizzard on the Blvd prior to this year's Battle of the Blvd, Belmont's annual basketball game against Lipscomb University on Tuesday, Dec. 1. Faculty, staff, students and community members gathered around the Christmas tree on Belmont Blvd to sing Christmas carols, take photos with Santa and winter princesses, donate to Ms. Cheap's Penny Drive and decorate cookies among Nashville's first blizzard of the season.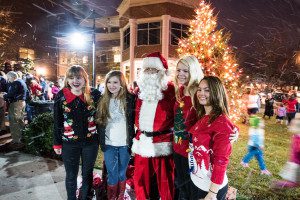 The event featured snow machines that turned the celebration into a winter wonderland, allowing attendees to ring in the season in style. Decorated cookies were donated to a nearby senior living community, Morningside of Belmont.
The Bruins went on to defeat the Lipscomb Bisons, 105 to 89.