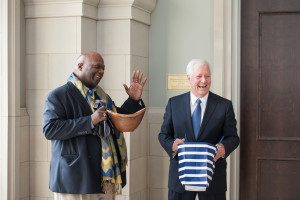 A plaque was hung outside the Prayer Chapel of the Wedgewood Academic Center on Wednesday in honor of the late Pastor Foster Young, a long-time resident of the campus neighborhood and Mt. Gilead Baptist Church pastor. Young's home was in the spot that is now the newly built Academic Center.
Young's son, Julius Young, was on site for the ceremony and told many memories of his father within the Belmont neighborhood. He said his parents would sit on the porch and talk with students as they passed by, and several converted to Christianity as Pastor Young shared the gospel.
During the ceremony, Julius was presented with a wooden bowl made from the trees that were originally in the yard surrounding his childhood home.
Belmont Vice President and Chief of Staff Susan West said, "It was an honor to recognize Pastor Young and his family in this special way. For years to come, students, faculty, staff and guests who visit the Wedgewood Academic Center will come to know the friend our community found in him."